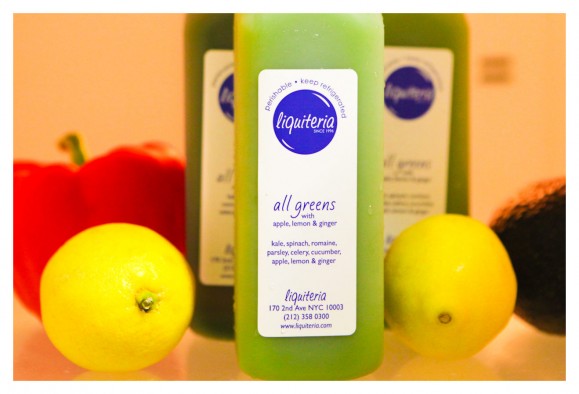 This is the place you go for all kinds of great juices in New York. It's full of yogis and healthy people from the East Village crowd.
I love it here, I always try to stock up on green juices for a great kick start to my day. They're super fresh, amazingly tasty, healthy, very green and pretty much full of all things good. They last only two days as they do not include any preservatives, so you can stock up your fridge for just 48 hours at a time. Always ask them to pack it with some ice.
I also like to drink in and enjoy their swimming pool like interior (do not take any pictures, I always get told off! Yep, I tried it a few times, silly me!). My favorites are the 'Immune Rocket Booster' and 'The Killer', they contain loads of ginger so if you feel like you're getting the flu (or if you just love ginger), they're perfect. 'Mr Green' is a delicious thirst quencher after a morning run, 'The Skin Trip' is amazing, the clue is in the name.
Just go and try them all, I can honestly say that since I discovered green juices, my skin is great, I sleep better and I have tons more energy even after a 10 hour flight.
Have a super juicy day!
Adela x
Liquiteria
170 2nd Avenue (corner of 11th St)
10003 New York
www.liquiteria.com
PS: If you're not in NYC, you can always make it yourself at home!