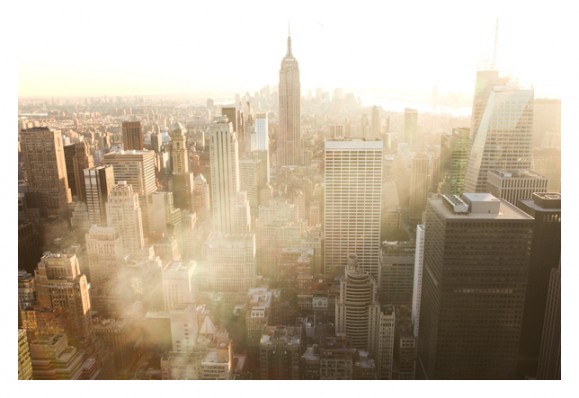 It's that time of the year when all you think about is food! At least I do!
I like to get properly spoiled over the holidays and I try to forget a bit about my exercise routine for a short while.
To pick my favorite 'treat' restaurant in NYC isn't an easy task, so expect lots and lots of updates from me on this theme! There's just so much choice!
If you're looking for the best New York cheesecake, I'd say 'Veniero's', or a cupcake 'Baked by Melissa', their tiny miracles are just genius! The best steak I've ever eaten? 'Sparks' and the best burger has to be 'The Spotted Pig', the blue cheese does the trick for me. My favorite coffee in the world is served at 'Tarallucci E Vino', whatever you're looking for, let me tell you, you'll definitely find it in NYC! Seriously the food rocks here!
The Spotted Pig, West Village
As I mentioned, come here for the best burger in town, no, come here for the best burger in the world!
It comes very simple with blue cheese and shoestring fries. It's just genius, nothing else needs to be said! Interior is so cozy and colorful with pigs hanging on the walls, posing as statues and if there's anything you don't know about a pig, you'll know after this visit!
They don't take reservations, so expect around 40 minutes wait when busy, especially on the weekend. You can always crush at the bar upstairs, but the best thing is to put your name on the list and have a nice stroll on the High Line or by the water! It gets less crowded after lunch, so no waiting though menu is limited but the burgers are ALWAYS on there so no worries!
314 W 11th Street (corner Greenwich St)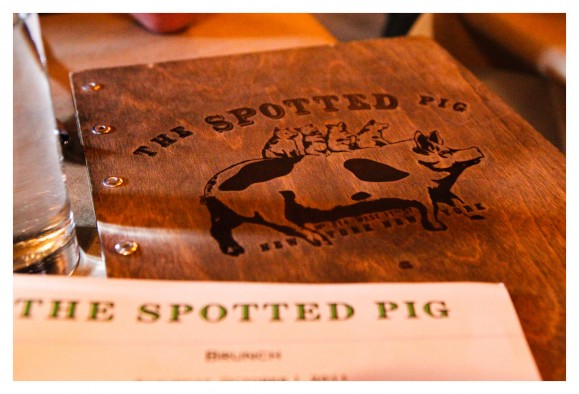 Fig and Olive, Meatpacking
It's all about olive oil in this place!
They use different oils from all over the Mediterranean and cook dishes that work the best with each, no butter needed. They haven't got bookshelves, they've got 'oil-shelves' where you can pick and purchase your favorite olive oil. The menu is a combination of the best Italian, French and Spanish dishes you can think of all made with the best ingredients, you'll feel like you're on vacation on the French Riviera! There are three locations now in NYC. I usually go to the one in Meatpacking district, simply because it's closer to my apartment. The service is so lovely as well!
420 W 13th Street (between 9th Ave and Washington St)
http://www.figandolive.com/locations-reservation/meatpacking/
Marseille, Hell's Kitchen
This is my little slice of France in NYC.
The menu is written on a mirrored wall in the middle of the room and the whole vibe makes you feel like you really are in Marseille. The art deco interior is beautiful and you'll love their simply yet classy chairs! The food is delicious and you'll get one of the best steak frites in town. There are many amazing French restaurants in nyc, but I always tend to gravitate back here. It has a great atmosphere and gets so busy around 7pm when everyone is having their meal before hitting the shows on Broadway.
630 9th Avenue (corner of 44th Street)
http://www.marseillenyc.com/home.aspx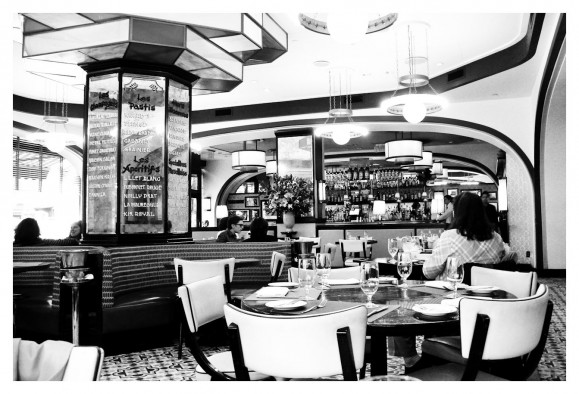 Sparks, Midtown
I am normally not a meat person and was at first over faced by a steak the size of my plate! However it's just so delicious that even I can eat most of it, (though I did have to get some help finishing it from some of the guys at the table, they were fighting over it!) Go for the fillet even though the waiter might recommend a different one!
See if you can spot local mafia (allegedly)! Gambino family has been hanging around here for years! Thomas Billoti, Gambino's underboss was shot in front of the main door in the 80s. (my research fun fact)
210 E 46th Street (between 2nd and 3rd Avenue)
Buddakan, Chelsea
This is my favorite Asian spot in the city. I prefer it to Nobu or Tao or any other of the trendy spots that come and go! The food tastes like you've never tasted it before! When leaving the restaurant after your first time you feel like that your whole life you've been missing on something! You'll want more and more! How come no-one has ever introduced you to this taste? How come the black cod with honey can taste this amazing and up until now you had no idea! Desserts? How come a simple carrot cake can be so different yet still classic and better tasting than ever? The food here is seriously a masterpiece!
The interior is beautiful and huge and you won't even notice the restaurant from the outside. I love their grandiose chandeliers!
75 9th Avenue (corner of 16th Street)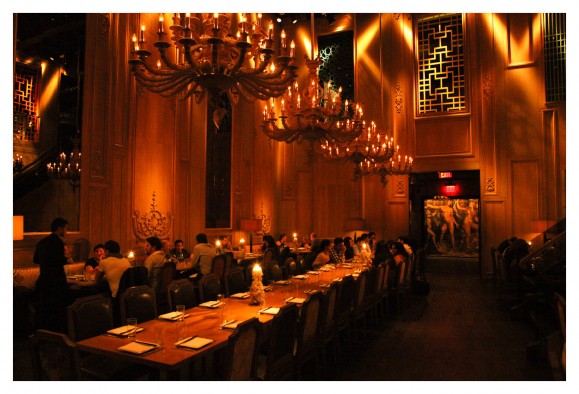 Spice Market, Meatpacking
First time I went to Spice Market I just got back from Southeast Asia and had very high standards regarding Asian food, I was not disappointed here. My 'Vietnamese Chicken Curry' was delicious and the service wonderful! The waiters explain all about the restaurant and their philosophy once he sits you down. I usually sit outside for lunch to watch the Meatpacking crowd but the interior is grandiose and exotic on a chilly NY evening for dinner. You should definitely go check it out as all the artifacts were brought from Southeast Asia and the wooden floor is from a 200-year old Indian palace!
403 W 13th Street (corner of 9th Ave)
http://www.spicemarketnewyork.com/
Balthazar, Nolita
A New York institution. The French onion soup as good as any I've had in France! It's very Parisian, very charming and so busy no matter what time of the day or year so reserve well in advance!
Go and check their amazing bakery full of pastries during the day and enjoy them outside on their bench!
PS: Soon Keith McNally (the chef owner) is opening Balthazar London!!! Can't wait, I'll keep you posted!
PS2: There's a Balthazar cookbook, which is fabulous. It would make for a great gift! http://www.balthazarny.com/cookbook.php
80 Spring Street (corner of Crosby St)
Mercer Kitchen, Soho
This is the second restaurant I am recommending run by Chef Jean-Georges, the first been the Spice Market, (he has several places in the city)
Mercer Kitchen is located in Mercer hotel. Food is simply delicious. I've had here the best caprese ever, unfortunately no longer on the menu, but there are other great Italian starters such as mozzarella with figs and tomatoes. Look up at the ceiling, you can hear and see the shadows of people rushing by in the busy Soho streets.
99 Prince Street (corner of Mercer, of course)
http://mercerhotel.com/kitchen.php
Cafe Luxembourg, Upper West Side
Yet another amazing French bistro in a simple art deco style. White tiles, red benches and chairs brought in from Parisian Cafes. If you're in the mood for a feast try the 'Luxemburger'!
200 W 70th Street (between Amsterdam and W End Ave)
http://www.cafeluxembourg.com/
Doma, West Village
Doma just feels like home (that's what it means in Czech by the way). It's so cozy and beautiful. It's great for a coffee and computer time during the day and a glass of wine with one of their small dishes in the evening and… live music! I would go for a "Palacinka", it's just a pancake but I always get excited that it's written in Czech on the menu (the owner was born in the Czech republic apparently)! Or just go for a "Babovka", you'll get a big piece of this amazing marble cake.
17 Perry Street (corner of Waverly Place)
The New French, West Village
It doesn't feel French in any way! It's is a tiny little place with great light meals. I've been many times and always sit outside at their checked black and white table cloths. Even in November as I never seem to let the summer go!
522 Hudson Street (between W 10th and Charles St)
http://nymag.com/listings/restaurant/the-new-french/
Cafe Gitane, Nolita
Very 60s interior and if you look properly it feels like all their dish-ware's been stolen from some other restaurant (Le Pain Quotidien's bowl for sugar, the same Lavazza cups as in Tarallucci E Vino). This place is just mishmash of styles and the old cash register at the bar just adds to the interior.
The food is the same mishmash -very Moroccan inspired dishes are delicious and unique..
This original Mott Street location is always busy and crowded, you'll always see people hanging around outside and often spot the competition from the casting you just left! If you don't get a table straight away, just drop into Ina (vintage shop) around the corner or go search for some new books at my favorite bookstore, McNally Robinson. There are great shoes next door as well at Sigerson Morrison!
There's another Cafe Gitane in West Village's Jane hotel, which is probably better for celebrity spotting if that's your thing!
242 Mott Street (corner of Prince St)
Odeon, Tribeca
My sister likes to argue with me about the best burger in town, she loves Odeon's one just too much! Honestly, it is delicious (though I still think Spotted Pig has the edge, sorry sis!) Have a seat on very red sofas and chairs and enjoy your salad or burger and great service in this Tribeca's institution. Alternatively sit outside and watch the progress on Freedom Tower!
145 W Broadway (corner of Thomas St)
http://theodeonrestaurant.com/