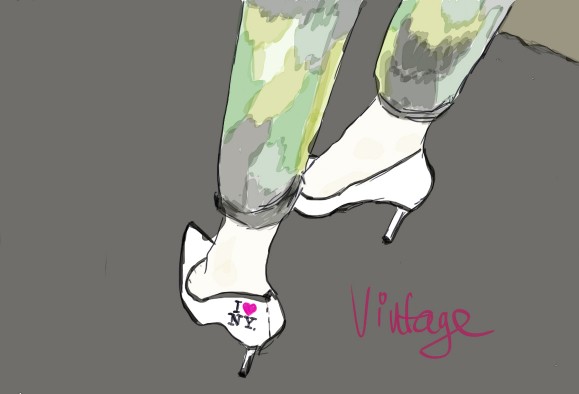 Oh, vintage! Looking for that one special piece of clothing or accessory is a little bit like going to a museum, except you get to touch it and take it home. That's what makes the whole vintage shopping experience so exciting. I love to find original pieces from previous collections and I always wonder, what's the history behind it? Who were the women that owned it before me and is there an exciting story to be told?
Shopping for designer vintage in New York City can be especially amazing. I haven't found any better place in the world to do it. You wouldn't believe how many Birkins, without 3 weeks of waiting, or Chanel suits still with their tags on are out there!
Below are my favorite NYC vintage shops as of now. I'll definitely post more soon, I find new ones all the time. My next mission is to explore the Upper East's hidden gems.
Two tips:
1) Always ask the staff for help to find the specific piece you're looking for, they are usually very knowledgeable and can often find what you want even if it's on the other side of the world!
2) Most of the vintage shops in NYC open late-around 12pm. I always tend to forget this.
What Goes Around Comes Around, Soho
I call it 'WGACA'. It's one of those shops you wish there were more of in the world. There are two locations now, LA and NYC.
It carries one of the best vintage collections in a tidy and enchanting environment.
Here you can find the best vintage Chanel jewelry (aaaah those gorgeous earrings, ohhh those fabulous necklaces), vintage Chanel purses and jackets, last century fur coats, lovely white cotton dresses (I'll never understand how cotton can cost $1000, but they are absolutely beautiful!) and even vintage negliges.
I was recently on the hunt for a very particular pair of vintage Chanel "CC" earrings. I am kinda obsessed with them right now. I couldn't find them in the store but the staff were so helpful. They were able to identify the specific collection and period of the earrings I wanted, the 'WGACA' staff knows pretty much everything you need to know about vintage. They took my info and are now looking for them in their New Jersey warehouse, yes, they've got that much stuff!
The store also has it's own label designed by the owners. Don't forget to check out their website but beware, it makes spending your money very easy and dangerous!
My agency is right next door in Watts street so you'll see me here a lot. Love this store.
351 W Broadway (between Broome and Grand St)
http://www.whatgoesaroundnyc.com/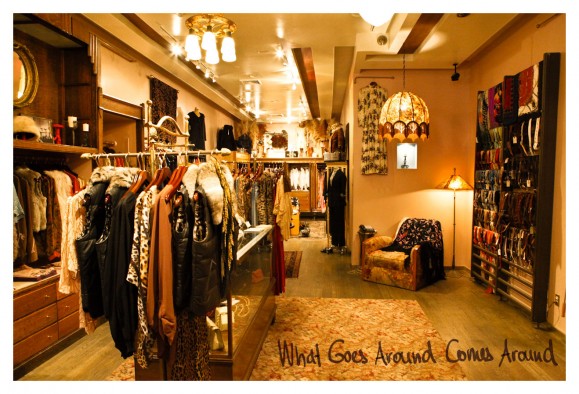 Resurrection, Nolita
Here they'll also try and find anything you are looking for, but you WILL pay for it! Do you want a maxi dress by Missoni from the 70s? Just ask. I'm searching for a Chanel backpack and guess where I can get it? The staff are great and you can sign up to their mailing list, which is excellent and not over kill. It's practical information about their new coming pieces, so you won't miss out on any treasures, as all the products go to their LA store first and they might never make it to NYC.
I've heard that many designers come here for inspiration.
217 Mott St (Prince and Spring St)
http://www.resurrectionvintage.com/store/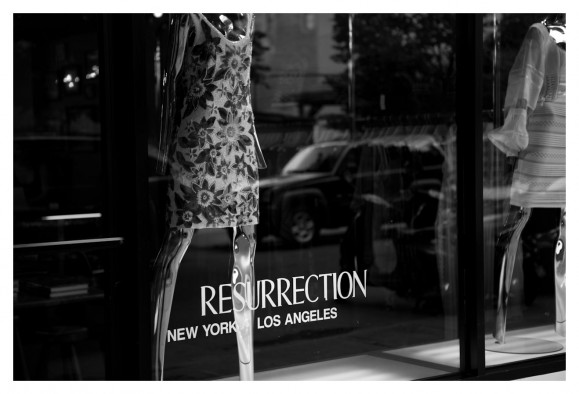 New York Vintage, Chelsea
This store is vintage heaven, amazing couture pieces of extraordinary quality that you can immediately wear to the red carpet. The store is beautiful for just browsing around and enjoying the view, just like in a museum. No photos are allowed inside, so exactly like a museum!
Fashionistas from NYC and beyond, those simply obsessed with fashion and pretty much every vintage maniac from around the world comes here for a fix, seriously, everyone!
117 W 25th St (between 6th and 7th Ave)
If you go to this store on the weekend don't forget to check out the amazing flea market in the garage opposite. You can find designer vintage jewelry there or just an amazing pair of vintage earrings for $1!
The Antique Garage Flea Market, W 25th St (between 6th and 7th Ave)
http://www.hellskitchenfleamarket.com/home/?page_id=79)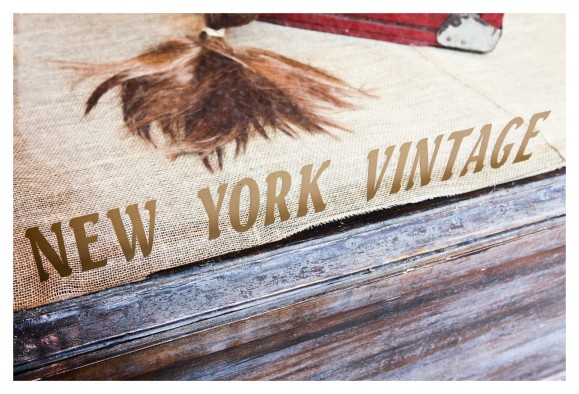 A second chance, Soho, Upper East
A few steps from 'WGACA' is 'A second chance'. Come here for plenty of custom made Chanel jewelry. The staff don't know everything about their pieces and the store is less well arranged than 'WGACA', but their selection of vintage designer clothes and purses is very impressive. I love their fitting room curtain as it is the same one I've got in my NYC apartment bathroom, from Anthropologie!
Soho: 155 Prince St (between W Broadway amd Thompson St)
Upper East: 1109 Lexington Ave (77th and 78th St)
http://asecondchanceresale.com/index.html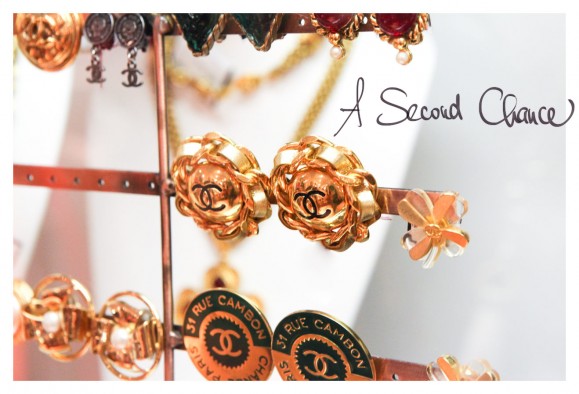 Tokio 7, East Village
This store, introduced to me by my friend Alex Rogowska, used to be my reward at the end of the day when I lived in East Village. (It's also only 3 blocks away from the best coffee place in the world – Tarallucci E Vino). At the time it was still located in a much smaller space, now it's moved a few houses closer to 1st Avenue with greater space and more clothes!
It's a designer second-hand store more than a vintage shop, but you'll find a really great selection of dresses and shoes here. The best designer vintage they do have is usually displayed right in front of the changing rooms. I have seen here shoes from Jimmy Choo, Manolo, Chanel, Laboutin and clothes from Marc Jacobs, Chloe and Dolce&Gabbana. I used to sell my Missoni dresses here when my closet couldn't hold them anymore. Come and check this place regularly, it changes every day!
83 E 7th St(between 1st and 2nd Ave)
INA, Soho, Nolita, Noho, Upper East, Chelsea
The famous 'INA' is the store that had the privilege of selling the entire wardrobe from 'Sex and the City' when the show ended it's 6 season run.
Go and look for Chanel, Missoni, Herve Leger, Hermes, Dior, YSL and any other designer you can think of. I feel the Prince street and Thompson street stores have the best selection, but I also like to check out the one on Bleecker street as it seems less crowded.
It's funny how often you'll find items there with their original tags, never worn! I tend to make up stories, as to how they got there? Maybe a posh Upper East Side girl bought a dress for a party, only to find her nemesis had bought the same one, gifting it to her maid who decided to make a few dollars, as a size zero Halston Heritage was never gonna fit!
PS: There's a new INA in Chelsea now (207 W 18th St, between 7th and 8th Ave)! Very exciting!
Soho: 101 Thompson St (between Prince and Spring St)
Nolita: 21 Prince St (between Mott and Elizabeth St)
Noho: 15 Bleecker St (opposite Elizabeth St)
Upper East: 208 E 73rd (between 2nd and 3rd Ave)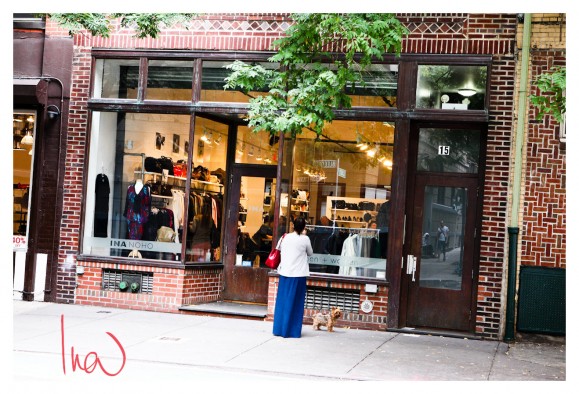 Screaming Mimi's, Noho
Another nicely kept consignment store that carries vintage from the fifties through the nineties.
Definitely ask to be shown upstairs as there are some hidden delights!
382 LaFayette St (between Great Jones and E 4th St)
http://screamingmimis.com/index.html
Zachary's Smile, West Village, Noho
Zachary's doesn't exactly carry 'designer' vintage but is doing a great job with it's selection of regular vintage pieces. They're also very clever with redesigning and remaking vintage clothes into completely new collections. You'll often find very beautiful things here for a reasonable price.
West Village: 9 Greenwich Ave (between Christopher and 10th St)
Noho: 317 LaFayette St (between Houston and Bleecker St)