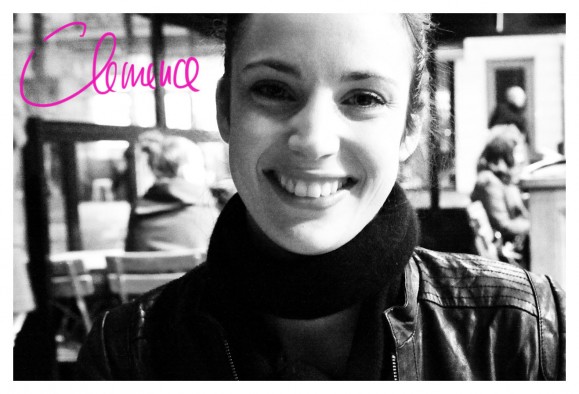 I met 'Clemence Biau' on a TV commercial shoot in Milan a few years ago.
We were taught a choreography routine and were expected to dance like there was no tomorrow! We were also required to speak Italian with a perfect accent, a challenge with no coach and a team of 100 Italians looking on! With each other's support we not only did it, but we totally rocked it, even if I do say so myself.
Clemence has been a dear friend since. She's so classically French and beautiful though I do always tease her about her soft accent. At the same time she's very cosmopolitan and unbelievably professional. Like me she's been modeling 10 years and has travelled all around the world living in NYC, Paris and spending a lot of time in London, to my delight.
I've asked her to share her experiences and give a little 'advice' about the modeling world:
When and how did you start modeling?
I was 17, somebody in the street asked me if I wanted to be a model, simple as that. However at this time I wasn't willing to quit high school and go to Milano. 3 years later though, I decided to quit university, go to Paris and really give modeling a go.
What advice would you give to a girl who wants to become a model?
The first thing is to find a GOOD agency, with bookers who really believe in you. After that, work hard but don't try to be someone else, just be yourself.
Paris is your base now, is it easier to work in Paris being French?
Paris is the worst place for me as a model. As a model you are expected to be something different and aspirational, a French girl in Paris is not rare!
Okay, now the most important part! Your top tips!!!
Your favorite place in Paris, the one place you never get bored of?
I do love driving along the 'Quai', the street running along the Seine from the Champs-Elysees to Bercy. It's especially beautiful at night, you can see all the monuments, it's wonderful.
Your favorite coffee place?
I like 'La Patisserie Viennoise' (Rue de l'Ecole de Medecine, 75006), it makes you feel like you're in the 1950's.
Your favorite restaurant?
'La Regalade' (49 Avenue Jean Moulin, 75014).
Where do you go to get some rest from it all?
I go to the south of France, Var, where my parents' house is. It's the place where I grew up. It's close to the sea, and I need to be close to the sea to feel really good.
How do you keep yourself healthy and fit?
Nothing extreme, I just try to have a balanced diet and take regular exercise either running or at the gym.
You've lived in NYC and travelled all around the world, what is your favorite place, why?
I think it's Tokyo. I do love it there but I don't really know why, I just feel really good when I'm there, it's like my second home, I guess it feels very safe.
Your best beauty advice?
Ahah, don't smoke and be careful with the sun!
Your favorite designer and why?
Dior, it's so chic, need I say more ;)
What's your favorite piece in your wardrobe?
A little black dress in silk.
What was your mum's best advice?
Try to not judge other people, they do what they can…