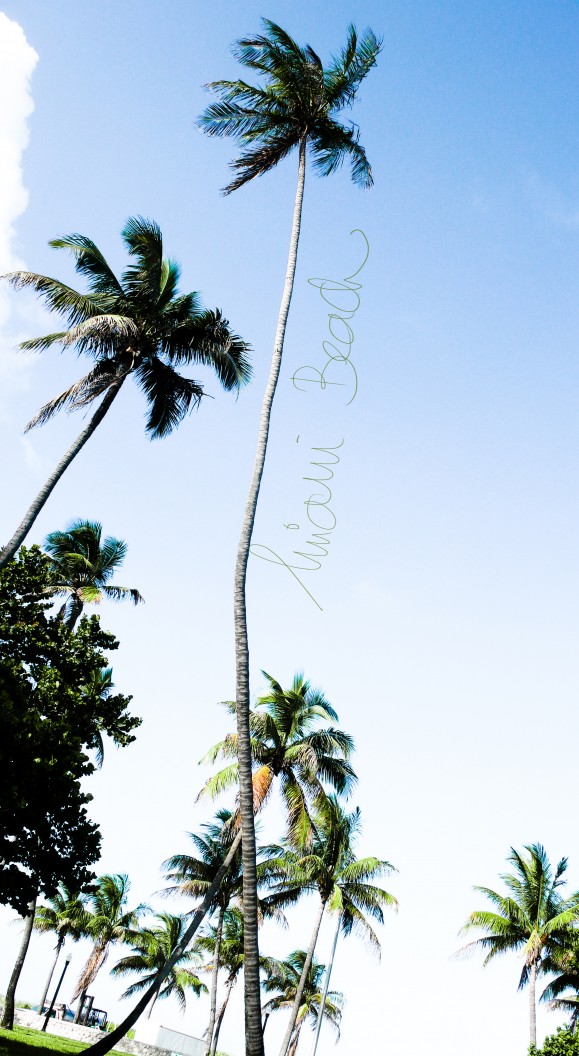 I am heading to Florida for a shoot in couple of hours and I'm very excited about recharging my batteries with some sunshine. I am not gonna even start complaining about the NYC weather though (except what's up with that wind today?), not only has it been very good this year, but my London mates would most likely shoot me as they've had two months of non-stop rain.
So where were we? Oh Florida, The Sunshine State.
Tonight I'll be in Naples but as I usually spend a lot of time in Miami each year I thought I would share…you're guessing right…some of my favorite eats in Miami Beach.
Here we go:
Cafe:
A La Folie Cafe
is a charming little coffee place in a Parisian bistro style as the name suggests. There are loads of cool magazines available for you to read, which makes it a great place for Saturday breakfast with a fashion magazine contemplating or computer time and blog writing. Lattes come in huge colorful dishes and taste so good. Even-though the Espanola Way is quite a touristy area you'll find that all the locals come here regularly which is always lovely. There are now two locations in Miami Beach.
A La Folie, 516 Espanola Way (between Drexel and Pennsylvania Ave)
Dinner & Design:
Asia de Cuba in the Mondrian hotel
I know I know, I'm getting a bit annoying with all my listings of all the Mondrian restaurants. Well, I can't help it, they are simply outstanding. As I mentioned Asia de Cuba in Miami offers a more Asian menu than Cuban, bit it's all about sharing the dishes and experimenting with the new tastes and ingredient mixes yet again.
The space designed by Dutch interior designer Marcel Wanders is very impressive, almost cosmic and futuristic looking with over sized round dining chairs coupled with vintage castle-like chairs, all painted white. Do not forget to look up and check out the massive golden bell-like chandeliers, that are actually bigger than America's most famous 'Liberty Bell'.
The bar opposite, right behind the grandiose black staircase offers great cocktails. I would recommend Kir Royale, my own cocktail classic.
Mondrian Hotel South Beach, 1100 West Avenue (between 11th and 12th Street)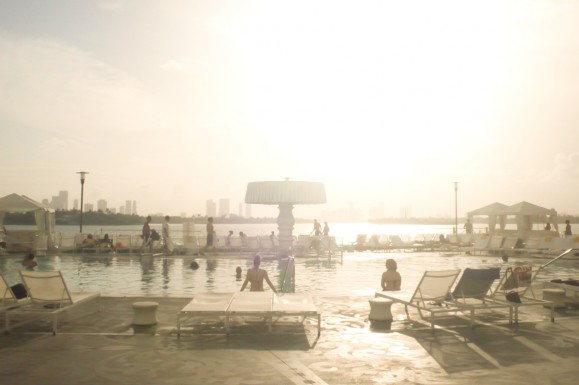 Diner:
11th Street Diner
For the best diner experience check out this art deco Pullman car diner, it was brought here from Pennsylvania in 1992. American classic, even though it gets touristy, it's still worth going to watch some sport on the big TV's and enjoying your fry-up in the wine-colored booths.
11th Street Diner, 1065 Washington Avenue (corner of the 11th Street of course!)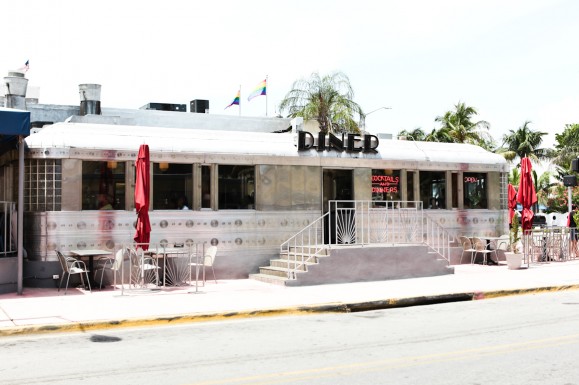 Best Italian:
Osteria del Teatro
This Italian restaurant feels a more NYC than anything with it's glass windows all around. If you were just walking by you would probably pass on it as it seems more like a tourist attraction with it's phosphorusly luminous sign. But do not let it confuse you, otherwise you'll miss on one of the greatest Italian food in town cooked with the freshest ingredients. Service is also excellent and the atmosphere here is lovely and always buzzing.
Osteria del Teatro, 1443 Washington Avenue (corner of the Espanola Way)
Best Sandwich:
You can't leave Miami without indulging in a proper 'Cuban Press Sandwich'.
You'll get these toasted geniuses made with ham, swiss cheese, mustard and pickle all around the town, but try this great Cuban diner in South Beach (and then go "swim it off " as soon as you can):
Puerto Sagua, 700 Collins Avenue (corner of the 7th St)
Romantic Dinner Date:
And a very special place to me: Casa Tua
This restaurant hidden behind a bush fence with no signs at all outside offers the most romantic dinner date experience. It's enchanting garden with trees growing above you, lanterns, fairy lights and flower pots somehow ooze elegance without a hint of been tacky as you might fear.
The Northern Italian meals are cooked to perfection and the service is as great and as Italian as it can get.
This place holds a very special place in my heart as I got engaged here.
Casa Tua, 1700 Jame Avenue (entrance on the 17th Street)
Now off I go to pack some Havaianas, shorts and bikini and I am good to go.
Have a great night!
Adela x