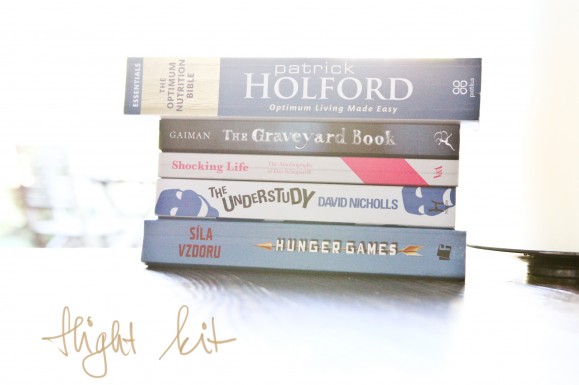 Books, are a vital part of my flight kit… And I always wonder why my suitcase is overweight?
I do the iPad thing but sometimes it's really great to have an actual book in your hands, I like the smell.
I'm also the type of person who reads several books at the same time, do I remind you of someone, dad? After all, exercising the mind is as important as the body. So here is a list of the books I'm reading at the moment, that I would recommend you try:
The Hunger Games, the 3rd book: Mockingjay by Suzanne Collins
I went through the first two so quickly. My favorite was the second one, I loved (spoiler alert!) the arena being a clock. I'm reading it in Czech, cause I need to make more of an effort as I'm getting a bit lazy with the Czech language…
The Understudy by David Nicholls
I loved Nicholls' One Day (and never cried reading a book as much before). I was intrigued to see how his other books are, so far so good.
Shocking Life by Elsa Schiaparelli
Elsa's auto biography is fashion fascinating, I was inspired to read it after the 'Schiaparelli & Prada' exhibition!
The Graveyard by Neil Gaiman
So excited about this author, I love fantasy and scary books that portray different worlds. I'm a fairy tale kinda girl.
The Optimum Nutrition Bible by Patrick Holford
This is my bible, literally, I've read all of it many times, it's always nice to come back and read some sections again as a refresher. The best book about nutrition I've found. You'll learn a lot!