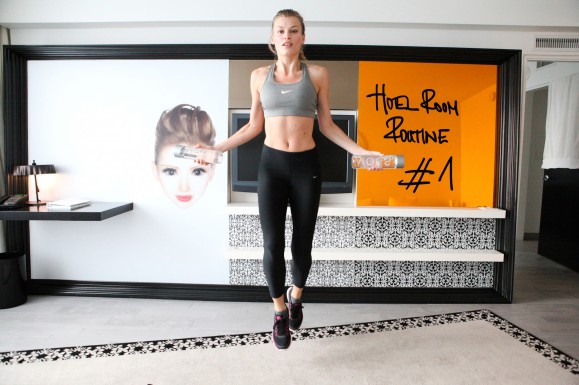 10 simple exercises, 2 bottles of water, 1 chair and a pair of trainers.
These exercises can be done ANYWHERE and ANYTIME, no excuses!
I can easily go a full month without staying in the same place for more than 2 nights and that's when it gets tricky to squeeze in some exercise, especially after the late night flights and early morning call times.
Therefore I invented my 'HOTEL ROOM EXERCISE ROUTINE'.
Just 10 simple exercises, a different 10 each time I get bored (Routine #2 to come soon), I do them when I get into my room, when the hotel gym is either closed, too small or filled with watchers (well, weirdos), instead of people who actually want to work out.
It's worked magic for me, it doesn't take much time and you can do it even when you're super duper tired. We live such busy lives, so taking a bit of time for yourself is amazingly beneficial and refreshing.
Few tips:
– Always wear trainers, so you don't hurt yourself.
– Use 3 pound weights if possible, which it usually isn't right, what am I thinking? Your luggage, like mine is likely overweight already. Try to use something from your mini bar (not to drink!). In my case 2 bottles of water.
– You don't need much space, just don't kick the TV off the wall, it can get pricey.
– Do not rest in between the exercises. Do them all at once.
– HAVE FUN!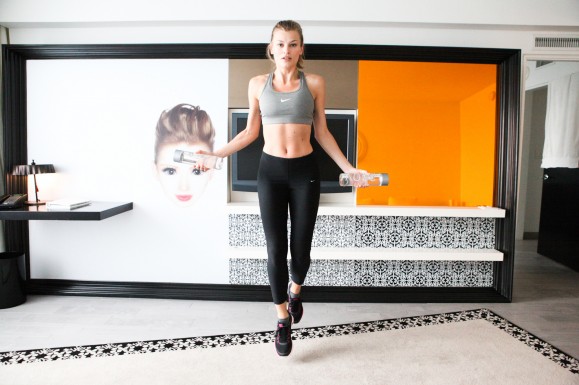 1. JUMP THE ROPE – WARM UP
Hold your weights/ bottles and imitate jumping rope moves, try to last at least 2 minutes.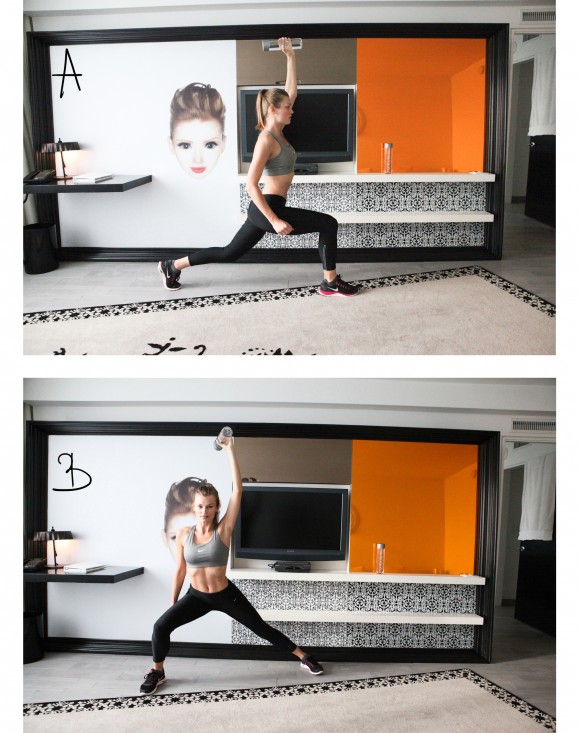 2. Front and side LUNGES – Works BUTT, LEGS and ARMS
20 lunges on each leg (front and side count as 1), 2 sets:
Start with the right leg, lunge forward raising your left arm, step back to starting position then lunge to the side with the same leg raising the left arm again, repeat 20 times then the same on the opposite leg.
Repeat the whole circle again (i.e. 40 lunges per leg when finished).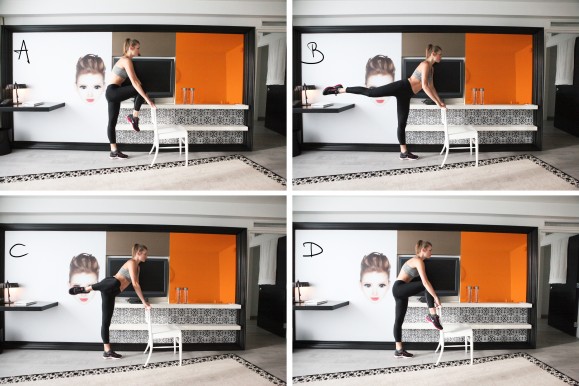 3. ROUNDHOUSE LEG EXTENSION – Works BUTT and LEGS
40 repetitions on each leg, 2 sets.
Grab a chair. Lift your right leg toward your body, then extend it high behind you, return in an arch movement forward to touch the chair with the top of your foot, repeat 40 times and then switch legs.
Repeat the whole set.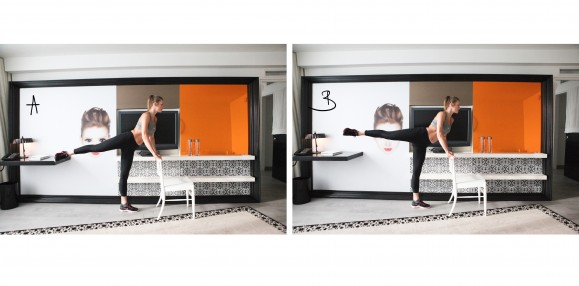 4. WAVE GOODBYE WITH YOUR FOOT – Works BUTT.
40 repetitions on each leg, 2 sets
Extend leg behind you and lift slightly towards the ceiling and back. Small minimal movements on each leg, no more than 6 inches.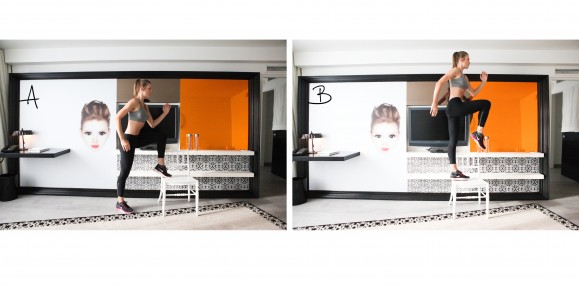 5. STEP UP – Works all, great cardio.
40 on each side, 1 set
Step up on the chair with your left leg until you are standing straight and then bring your right knee to your chest. One quick fluid movement. Do 40 on each leg.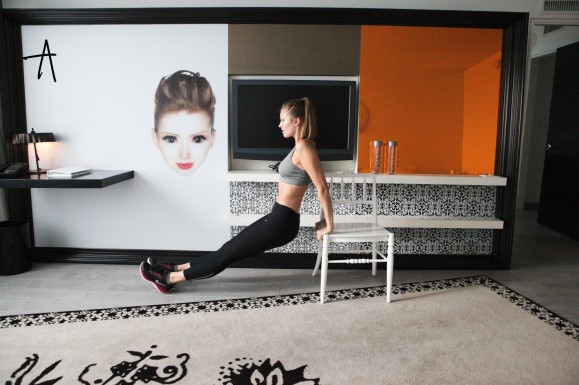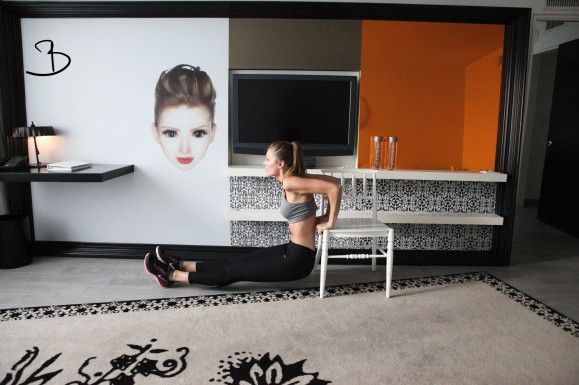 6. TRICEPS DIP – Works ARMS – triceps.
20 repetitions, 2 sets
Use the chair, raise your body up and down, concentrating your efforts on the back of the arms.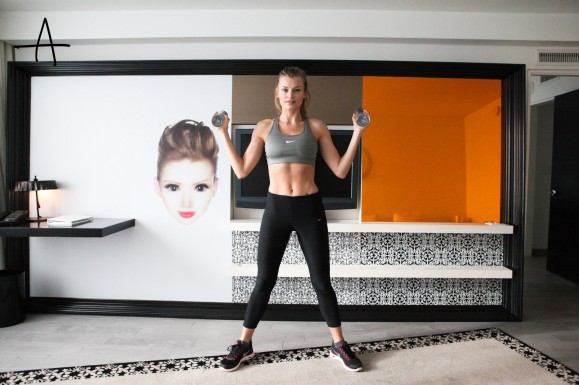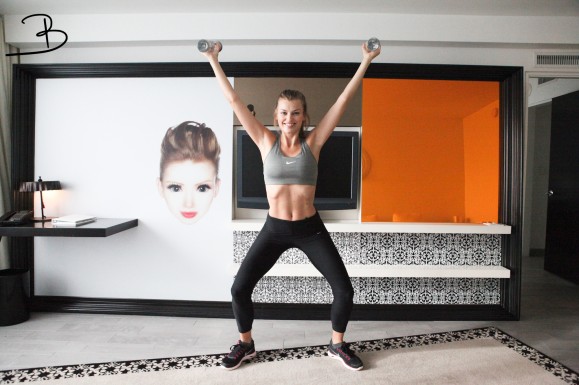 7. 'W' RAISE SQUAT – Works BUTT, LEGS, ARMS & SHOULDERS.
40 repetitions, 2 sets
Stand with your feet wide, toes turned out. Hold weights/bottles in your hands out to the sides, palms facing each other ('W' shape). Squat and at the same time raise your arms up, return. Repeat 40 times.
Repeat the whole set.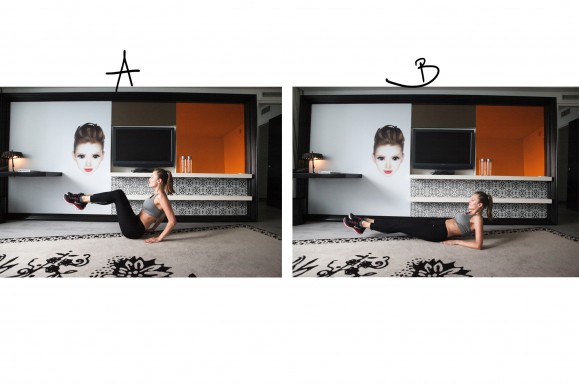 8. SEESAW CRUNCH – Works ABS.
40 repetitions, 2 sets
Sit on the floor with knees bent and hands out behind you. Lean back, elbows slightly bent, until you feel your abs engage. Extend the legs in front of you as you lean back more and return.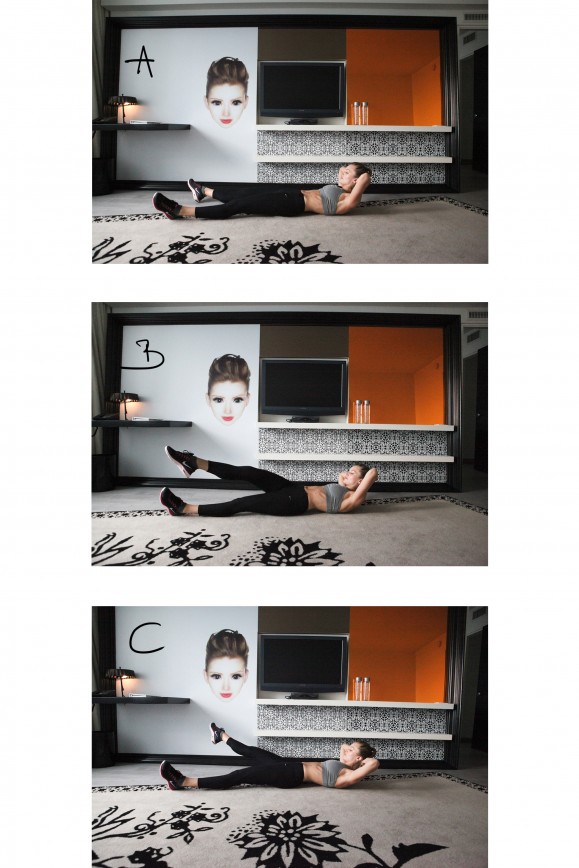 9. CRUNCHED LEG KICKS – Works ABS and INNER THIGHS.
40 repetitions on each leg, 2 sets
Lay down, legs apart, then crunch. While staying in the crunch position, lift your right leg and carry it over the left leg to a small kick, return back leaving it raised. Repeat 40 times, without resting. Do the same with the other leg.
Repeat.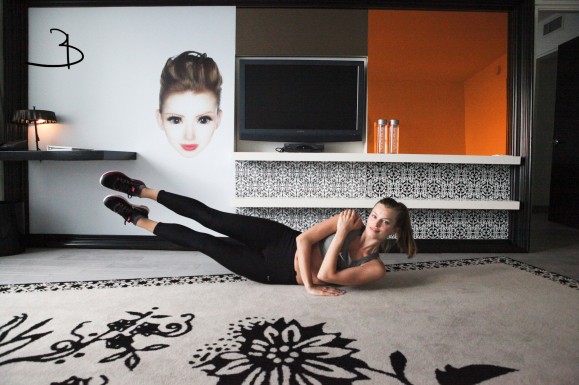 10. SIDE 'V' CRUNCH – Works ABS
40 repetitions on each side, 2 sets
Lay on your right side. Cross your arms over your body, with the left hand lightly touching the floor. Lift your legs and shoulders at the same time. Repeat 40 times without completely resting in between repetitions. Do the same on the left side.
Repeat.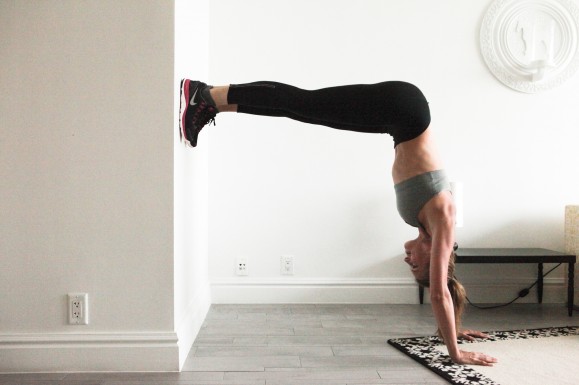 BONUS MOVE – After all that you deserve one don't you?:
'L' STAND – Works CORE!, ARMS, SHOULDERS, CHEST, BACK & STAMINA!!
Last 15 seconds.
MY FAVORITE. Find a spare wall, kneel on the ground in front of it & place your hands on the floor slightly wider than your shoulders. Carefully start walking up the wall until you reach the perfect L shape. You'll tend to have legs too high, which is normal at first and fine while you practice. If you're not confident, place a pillow (or lots of them) around you.
Try to last in this position for 15 seconds.
If you got all the way here, I'm very proud!
Hope you enjoyed it and had fun.
Adela x