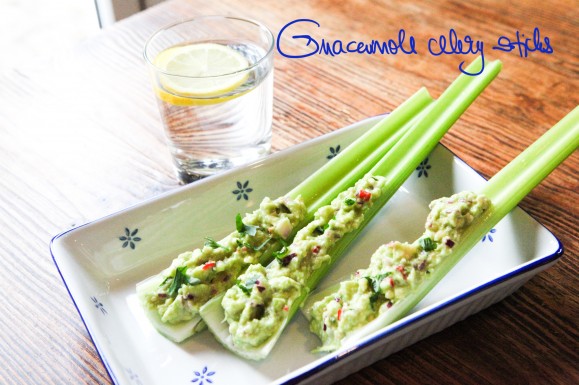 Let's snack again! I'm such a snacker, as I do get hungry every 3 to 4 hours. If I don't eat anything I get grumpy very quickly.
I find this is the best way to include celery in my diet. Let's admit it, I'm not a massive fan of celery, raise your hands who is (hmmmm…)?
Guacamole is a great dip and icelery is better than dipping tortilla chips in it. You can of course dip in any favorite veggies.
I'm an avocado geek, so guacamole is a perfect spoiling snack for me.
How I make a guacamole dip:
– 1 avocado (to find out if it's ripe in a grocery store, press it's stalk in instead of squeezing it's sides. If it goes in easily, then it's ripe and ready)
– half a red onion
– 1 clove of garlic
– 1 cayenne pepper (I remove the seeds as I don't like it too spicy)
– juice of half a lemon
– a bit of sea salt and some pepper
– 1tbsp coriander (optional, I can't stand coriander so I don' include it!)
Finely chop everything, mix all the ingredients in a bowl, mash them with fork.
Arrange on or dip in your celery sticks. You can sprinkle on parsley if you like. Enjoy!