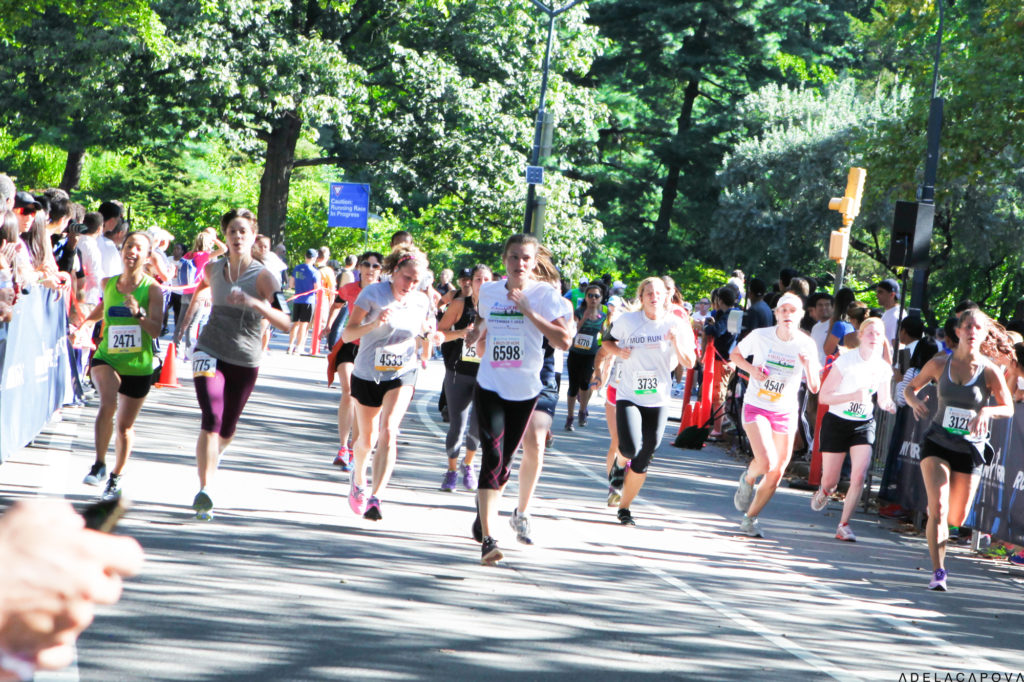 I've recently become a member of the 'New York Road Runners', their program allows me to 'collect runs', these are 'Marathon Qualifiers' and once I've done enough, plus a little charity work, I'll be guaranteed entry into the TCS New York City Marathon 2014. Today I ran my 6th qualifier!!
I really appreciate the NYRR program and would recommend it in a heartbeat to anyone who's up for trying to do the 26.3 miles through the 5 boroughs of this great city.
Can you believe it though? Not only, you have to haul your ass those long 26 miles and 385 yards, before you even start you need to work real hard to be allowed to run it, before the marathon training even begins!
Luckily, I'm one of those people who has voluntarily decided to follow these rules but is actually loving it!
There must definitely be many more like me out there, crazy enthusiasts and happy runners,  your emails prove it! I received so many of them from you guys, asking about running.
Instead of replying to each one of you, I decided to put your questions together and answer them here. Hopefully my answers will be helpful for my co-runners and we can motivate the non-runners to put themselves out there as well:
Where do you like to run the most in NYC?
Central Park is my favorite. It's a little challenging as there're some hills, unlike the rest of Manhattan. It's usually busy with other runners which I find motivating and let's be honest, running is better in nature and Central Park is the closest you can get in Manhattan.
I like Prospect Park too, although I don't live in Brooklyn so I don't get there that often. I am planning to do the 'Jingle Bell' run this year,  let's see how I feel when running through snow and ice! Come and cheer I'll have jingle bells on my trainers I promise, it's on December 7th. I can guarantee you'll see some cool Santas!
Where do you like to run the most in London?
I love Hyde Park, a London classic, although the loop is shorter than Central Park, so you have to go around twice to get a decent run and that's a bit boring, I don't like to repeat myself. There are two parks Wandsworth and Clapham Common, near our London home, I love these, you can do 10k (6m), without repeating yourself, that's where I run whenever I'm back. Finsbury Park in north London is nice too.
Do you also run on a treadmill at the gym?
I used to a lot but it's not the same as running outside. Although when I'm working away and staying in a hotel, with little free time, I happily use the treadmill at the hotel's gym.
What trainers do you run in and why?
I currently wear Nike's "Neutral Ride" range, as they have superior cushioning. I had a knee injury a while ago and still needs proper support. If your feet are quite wide, I'd go for Asics. The best thing to do is go to a running store and let them test you on a treadmill. Running shoes are very tricky and a personal thing.
What do you wear when running, which brand is your favorite?
As you know I LOVE the 'Shock Absorber' bra, more about it here. I like full length leggings by Nike or 'CW-X' running pants, that support my knees that tiny bit more. T-shirts, I'm usually given at each race, so I cut them to fit me and wear them.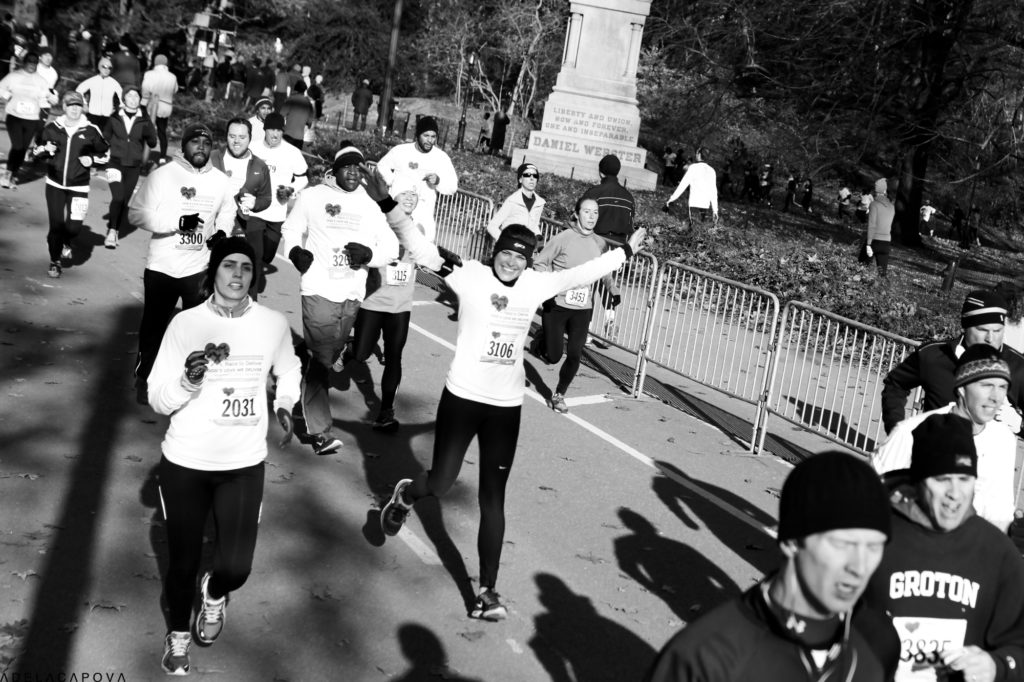 How do you relax after run, do you stretch?
I definitely stretch, it's very important to do so, as running tightens your muscles greatly. I'm sure you all feel that after even a quick run. I like to do some good stretching with my yoga DVD or go to a proper yoga class if I have time. Mandy Ingber has an amazing Yoga DVD (get it here), it has a 5 minute stretching sequence, that's quick and thorough, so absolutely no excuses for me not to stretch. Bikram yoga seems to make me for flexible than anything. Sometimes I like to go swimming after my run. I'm lucky enough to have a pool in my building.
What is your favorite tune while running?
To be honest, no music at all makes me the most relaxed. Running is like moving meditation for me, it's nice to listen to your breathing, which is especially great when training for your first marathon and you're still figuring out your pace. If I have any music at all, I like to listen to slow-ish songs these days, 'Stay' by Rihanna is on my iPhone at the moment.
What part of the day is your favorite for running?
I run the best at night. Funnily enough all the races take place early in the morning, so I have to push myself for these.
Is it crowded during the race runs, do you prefer to run with people or alone?
Races are tricky. The atmosphere is amazing. I love it, but sometimes I get too excited and then I tend to forget all about my comfortable pace and the long distance  ahead of me and I start to speed up. I usually finish exhausted.
On the other hand, when surrounded by other athletes it pushes me and challenges me, at the end I feel like I've really accomplished something. The more races I do the better I handle it. I'm getting more and more comfortable with the way I run and don't let myself get carried away, well at least not that much.
Be aware though, the races are crowded and I've seen a few injuries happen, especially when people are overly dramatic at the water stations, throwing half filled water cups across the road, it looks hilarious but you have to be careful!
What do you eat before running and after it?
I'll have a small healthy meal the night before a race for energy and then maybe half a banana a couple of hours before the race, that's it. An apple after the run is good, it gives me 'sugar' to get my glycogen and energy levels back. I usually drink my own 'designed' post-workout juice, into which I like to mix some chia seeds, I'll share the recipe next week. Green juice with 'Green Superfood Powder' is always a great post-run option as well.
How much in advance do you start preparing for a long distance race or a Marathon?
I run constantly, at least 3 times a week and on top of that I do many other aerobic exercises, so I don't need to really prepare for runs that are around 15k-20k. I'm running a marathon in May and for that my training begins January 6th. It will take me good 18 weeks to get ready for this one. I like to follow Hal Higdon's training programs.
What was your favorite run so far?
There were a few good ones, actually. Three weeks ago I ran the 'NYC Marathon Dash to the Finish Line' which was a short run, but totally beautiful, as they closed down the major Manhattan streets for us, and when does that ever happen? We ran past the United Nations, Bryant Park and Times Square, all car free and everyone around us was cheering. That one was fun!
What is a good running pace?
Can be anything, it depends on the distance you're running. Anything works!
My pace for shorter runs is around 4:00-4:30min per kilometer and Marathon one would be a minute to minute and a half slower. As I said everyone is different, anything works.
I'd recommend you start slowly, at a comfortable pace, you should be able to chat to your co-runner most of the way, so start from there. As they say, there's no finish if you never start. The whole point is to have fun, pace doesn't matter!
Sorry, but I have to say this! These are my own experiences and each one of us is a bio-individual human being and different, so please, do everything in moderation, at your own speed and consult things with your doctors. These answers are to motivate you, more than anything else. Peace!
PS: Happy to answer more of your questions at contact@themodelsoffice.com