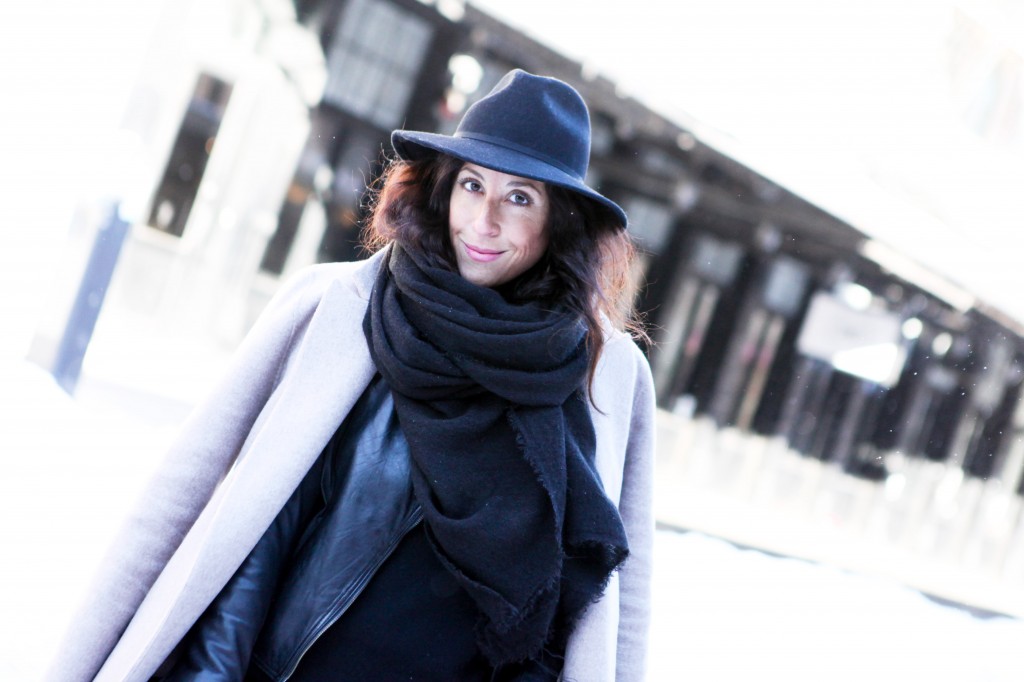 Jenny makes fashion accessible to those who find it complicated, she challenges you to be creative when you get bored or lost, she pushes your fashion boundaries, she can teach you how to simply enjoy fashion, have fun with it, yet she can inspire you to use it as a magical healing tool to make everything better. She shows you how to make your day positive just by dressing yourself well in the morning. Jenny simply makes fashion exciting, inspiring, refreshing and for me, she makes me feel comfortable and not embarrassed of what I wear and be confident to express myself with it.
I first met Jenny about a year ago, we shot together a fashion story in the streets of Manhattan, I was completely taken by her attitude to fashion. I found it to be refreshingly new and exciting. I felt a bit lost and unmotivated at the time, all the street style photos with no other message felt a bit vacant and uninspiring to me. I love fashion myself; I grew up in the fashion industry, but felt like I was struggling with the fashion side of the blog. Jenny had a different approach; her fashion psychology was very unique. She sees and uses fashion as meditation, as a medicine, a tool to improve your confidence and to express yourself in a non-apologetic kind of way. She helps you find not just your fashion confidence, but your over all confidence.
A New York City based stylist with a portfolio of clients to die for- H&M, ANN INC, Joe Fresh, and Cole Haan among many others, and a blog I adore- Your Soul Style. Jenny agreed to do an interview for The Model's Office readers! There's no point going on and on, find for yourselves some great style tips and tricks and perhaps get reminded what good fashion is all about!
What do you love about fashion, how did you get to it?
There is not a time in my life I can remember not loving fashion. Even at a very young age, I was thoughtful about presenting myself to the world, and always used style as a vehicle of self-expression. While other kids were scraping their knees climbing trees and riding bikes, I was creating my fashion identity. I am not interested in fitting in and conforming. I use what I wear to establish my individuality. I love knowing that I can tell someone about who I am, without uttering a word.
My official fashion career started in college. I interned for major fashion brands during summer breaks and after graduation began freelance styling. A few months in, I landed a full-time role as an assistant stylist for the tween catalog, Alloy. I will never forget my boss at the time, who taught me all of the technical styling skills that I still use to this day.
What was your dream job when growing up?
Styling. Always. I can't tell you how many endless hours were spent putting together my barbie dolls' ensembles. I was totally consumed.
How does your regular day look like when you work on a photo shoot? How much do you need to prepare for it?
It takes a lot more preliminary work than people think, especially when working with a specific brand. I spend most days strategizing with the merchandising and in-house creative teams to ensure what we put together represents the company from a creative and brand positioning point of view, but also considers the business perspective. Key items, inventory levels, production timelines, delivery dates, color stories, monthly concepts, marketing – all of it needs to be accounted for. When you are working with a brand, the most important thing is selling clothes and the bottom line. On the editorial side, the pre-planning is more story focused, artistic and conceptual. Collecting the clothes, which can come from varying agencies and showrooms around the city is the most cumbersome part of the job. Once the shoot is done, the clothes then need to be returned. The work that goes in on the days leading up and after is what takes the most time (and is the least glamorous).
Any advice on how to build a professional network when you work as a freelance stylist?
New York City is a bustling fashion hub with tons of demand and limited supply. The best way to network is to meet, work with and build as many relationships as possible. Introduce yourself to anyone and everyone that comes your way, send out e-mails to pr agencies, visit showrooms, attend trade shows and events, engage in social media – whatever it takes. Get as much experience and exposure as possible. You definitely need to check your ego at the door in this industry, especially at the beginning when you are looking to establish your reputation and contact base. If you are what you say you are, in due time – the rest will follow. It's a marathon, not a sprint.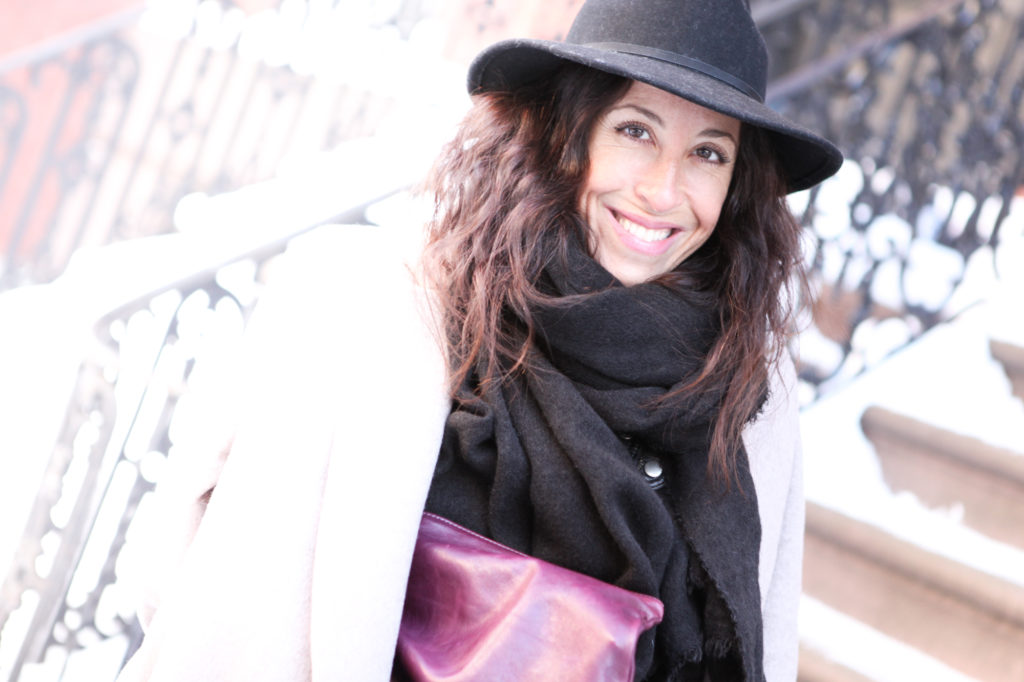 What inspires you?
I grew up in New York and after 35 years, I'm just as amazed, inspired and mesmerized by it. The architecture, food, fashion, style, art, diversity and most of all rhythm. The beat of this city and my heart are in sync and always have been. Travel inspires me too. I thrive on testing my limits by immersing into a culture vastly different from my own. It expands my being on every level – be it emotional, intellectual or spiritual. I'm very grateful for the opportunities I've had to explore the world. Strong women inspire me, such as Mary Alice Stephenson who is able to balance Motherhood with a career that changes people's lives through fashion. But the majority of my inspiration comes from my wife. I have looked up to her strength, and individuality since the day we met and she provides me with both a mirror and guiding light. I'm not the same person I was when we met. I attribute much of my growth to what I've learned through my relationship with Dina.
I love the way you look at fashion, the psychology of it. It can tell you a lot about person's mood and personality, it can be such a great tool to express yourself or on the other hand be used as a protective shield. You question all this on your blog. Can you tell us more about it? What inspired you to write your blog?
I've always been passionate about mental health and style, but was especially challenged by both when I came out. I struggled with not only my sexuality and what that meant from an emotional and lifestyle perspective, but how I presented myself to the world. The girly girl cheerleader that I recognized from high school was inconsistent with the stereotypical image of a lesbian I had in my head. And this forced me to peel back the layers to discover my truest self. Coming out on the other end of this metamorphic transition, I learned that your inside and out must align in order to feel comfortable in your skin. Your Soul Style is my mission to pay this message forward. It's a platform that discusses the cross-section between style and mindfulness. It's easy to get distracted by external influences and put unrealistic expectations on yourself, especially with all of the content we consume daily. It can land you lost and far away from your authentic self. My goal with Your Soul Style is to bring you back to your core, your roots. The seed of which all confidence, self-worth and expression grow – your soul. I cover fashion, lifestyle, travel, emotional health and wellness while always coming back to the foundation that none of it matters unless you are being true to yourself. Your Soul Style is a place for inspiration, not aspiration. I want to empower you to be the best version of you.
Do you wear outfits depending on your mood?
Yes! Absolutely. I'm very mindful about what I wear because I know it makes an impact on how I feel and visa versa. Even on the days when I want to be lazy and comfortable, I put energy into it. We have one body and one vessel to love, honor, respect and take care of. Being your best self takes work.
Do you have any tips for some outfit-mood-lifters?
Whenever you're feeling down or need a little uplifting, put on something that you feel the most like you in! I'm a firm believer in taking fashion risks, but recommend leaving that for when you're feeling your best, not your worst. Trying something new can be a scary experience. You want to embrace it when you're feeling steady and unshakable.
Do you still enjoy shopping for yourself? Or does it always feel like going to work when you walk into a shop, a place where you normally get and borrow pieces for a photo shoot?
I never not like shopping. Be it for work, friends, family, strangers, clients, or me – I get a surge of amped energy when styling a head-to-toe look or story. To me – it's art and a creative outlet. It's self-expression. It's a visual story. I enjoy every second of it. There is nothing more rewarding than helping someone see their own potential and beauty.
Who's your favorite designer and why?
I don't care who makes it, as long as I like it. I'm not loyal to one designer(s) because I like to create my own vibe and style. I find pieces in places like Zara, J.Crew or Rag & Bone and also make a conscious effort to invest into brands that are socially responsible and using sustainable practices like Tribe Alive or Reformation. I love the global marketplace where items are handmade by local artisans nurturing ancient crafts – just imagine my overflowing suitcase when we came home from India! I typically spend more on items with longevity, like a good blazer, handbag or shoes, but would never break the bank over something trendy since my style is constantly evolving. If I had all the money in the world, I'd be frequenting Chloe, Isabel Marant, Malene Birger and Stella McCartney.
Is there anything you wish you knew before you started your career and would like to share with our readers?
It has been a live and learn journey and I think everyone needs to engage in their own. The path you take is not always a direct route and although at times it may feel uncertain, every choice leads to another and strung together, they create the entire story . Don't get stuck in the moments. Enjoy where you are, recognize and learn from the present and if something is not working, you have all the power in the world to change it. Stay true to yourself and follow your soul – it's usually more right on than your head. I re-learn these lessons every single day.
What is your favorite NYC restaurant/ coffee place?
Forge in Tribeca, hands down. The food is perfection. ABC Kitchen is amazing too. And I just had a killer brunch at Egg Shoppe which was next level. I recently gave up coffee, but if/when I go back – Jacks, always.
What are your favorite places in NYC to shop for clothes?
I live in one of the worlds shopping meccas, but I've totally become an online consumer. Especially during painfully cold winters. Hibernation makes for some good virtual window shopping. When the weather is warm, you can find me in Personnel, Steven Alan, Reformation, or Rag & Bone. Department stores happen way less frequent and I keep H&M and Zara in my back pocket, always.
Any advice on how to dress and still show your style in those freezing -20C temperatures? For this interview we shot you in -15C, thanks so much for being such a good sport!
Layers, layers, layers! You can easily find me in a tank, then sweater, then lighter jacket and then my wool coat on top of that. Always topped with a giant, cozy scarf that mimics somewhat of a blanket around my neck. And I live in hats throughout the cold seasons.
Could you share some styling tips and tricks?
Be AUTHENTIC: find your own style rhythm
COMFORT is key: if you can't walk in those 5" stilettos, it's not sexy
ALIGN both your inner and outer self
STYLE MATTERS: style is a way of silently communicating who you are. spend time on finding yours. .
FIT is essential: don't try and squeeze yourself into a garment because you're scared to size up.
Work with silhouettes that HIGHLIGHT YOUR ASSETS
Understand your STYLE PERSONALITY: not every trend or style works for every person or body type (and that is OK!)
Create a strong FOUNDATION: bras, slips, spanx, fashion tape, pasties, thongs, underwear, etc. can make a fashion don't into a fashion do
DETOX your closet: get rid of the excess and what's not working
What are five pieces every woman should have in her wardrobe?
3. a long silk cami in black and neutral (for layering or wearing alone in the summer)
What is your dream for your job in the future?
I don't need to look towards the future. I am currently living my dream.