FLORENCE & PISA SCRAPBOOK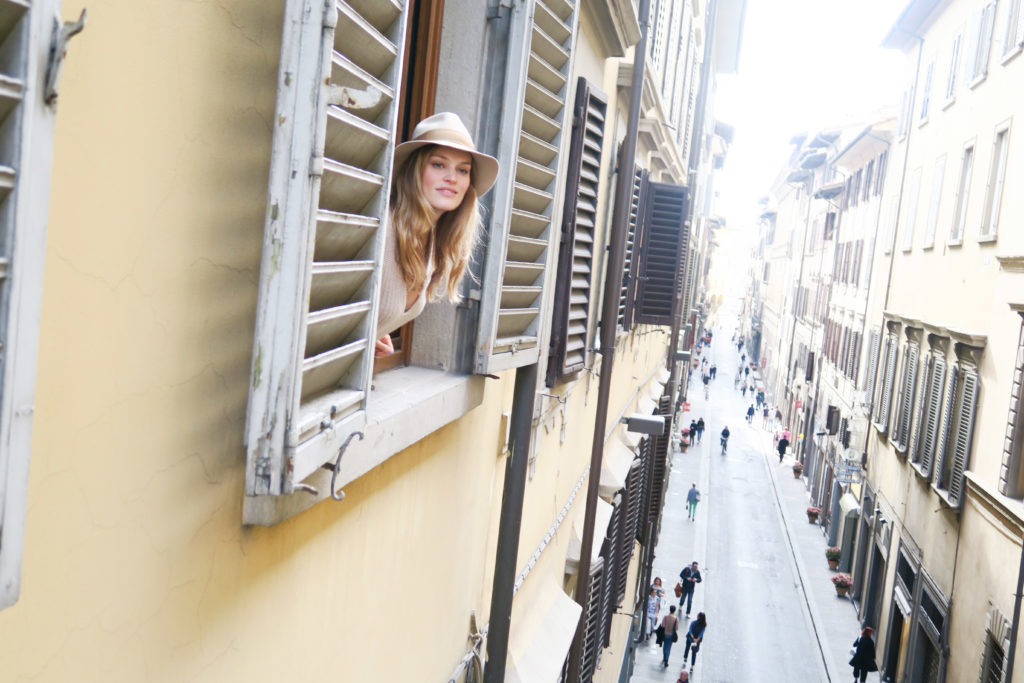 #italyissue
I'd always wanted to go to Florence, for as long as I could remember…
I had such high expectations and as sometimes happens, when you expect too much, you can be disappointed. Well, let's find out?!
If I could pick my two favorite artists in the world, past and present, it would be Michelangelo and Caravaggio.
Caravaggio's magical contrasting light, as if someone is holding a candle in the far corner of the picture. His protagonists' dirty feet, the almost invisible halos of the Saints, they always make me want to come back for more and explore his masterpieces over and over again, hoping to find yet another story within the picture. I guess his trouble making character is also what I'm intrigued by.
This is a little geeky (so sorry!), but if you're heading to Rome as well, I have to tell you that my secret shrine is the church of San Luigi dei Francesi, where Caravaggio's 'The Calling of St Matthew' hangs on the wall, beside two other of his pieces. There are never crowds like at the galleries, so it gives you an opportunity to absorb them in peace and quite?
Now, Florence's Ufizzi has a whole hall dedicated to Caravaggio, so of course, I was more than ready to start exploring it, in my museum sneakers.
Don't get me wrong, I admire Michelangelo's Sistine Chapel, but I find his genius to be in sculpture, so did he. Vatican's Pieta is one piece of rock, yet it feels so light and delicate. He tried to express himself through carving BEAUTY. Up until visiting Florence, I had seen millions of pictures of Michelangelo's David, but seriously, could he have been this big and impressive?
"It was about time to find out, Florence!"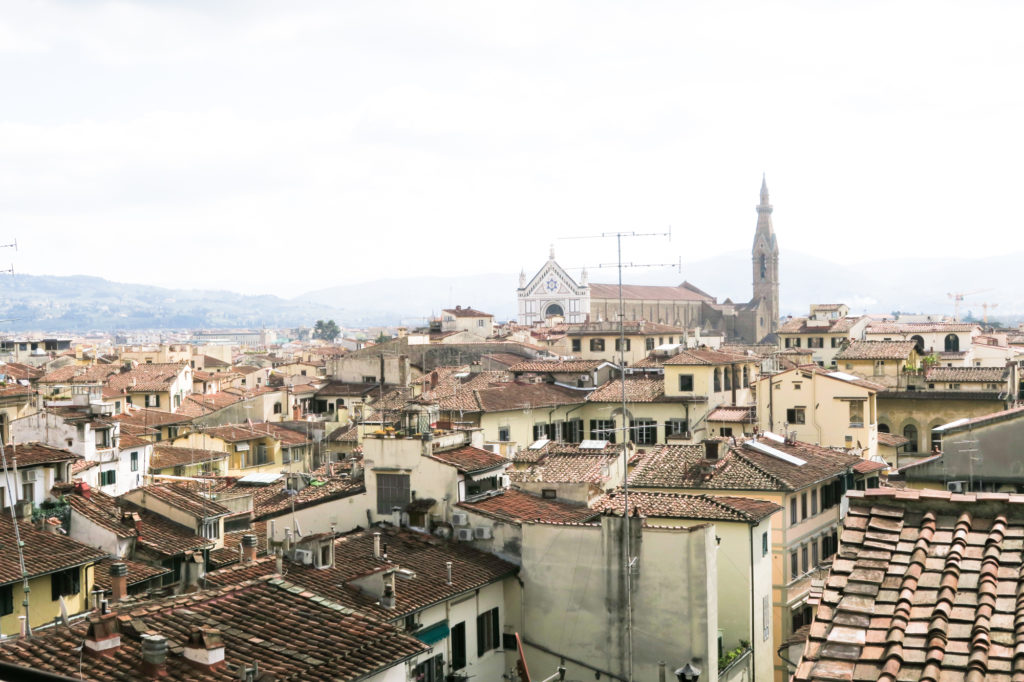 ———————
– TASTE –
ADVENTURE & CURIOSITY EATS  [aka you haven't heard it from a nutritionist]
On Piazza Santo Spirito, you'll find a few local restaurants that have the simplest and most delicious pasta. So sit down, watch the passers by and sip that delicious glass of vino, or watch your husband do so, as you're preggers. Next time!
Florence's Central Market- Mercato Centrale (MCF), is a true food lover's dream. There's no point telling you how yummy it is, just promise you'll go. We bought some forest strawberries to have something to snack on later in the hotel, but they didn't make it out of this iron-glass building (designed by no-one other than the creator of Milan's exquisite Galleria Vittorio Emanuele II, architect Guiseppe Mengoni). Don't forget to go upstairs for the most delicious lunch. We had the tastiest burgers (L'Hamburger di Chianina), oh, and we had pizza too, actually two (La Pizzeria Sud), and of course, some (well a lot of) gelato (Il Cioccolato et Il Gelato).
Il Santo Bevitore When I asked to have my steak well done here (I was preggers, otherwise medium is my way to go), I was told: "NOOOO" Also the waiter added a shocked facial expression. I thought that it was pretty awesome. After that, they called the chef, who I explained 'the situation' to and he agreed to make an exception for me. Before we came here, we walked up and down Via di Santo Spirito, on which this restaurant is located. It had such a nice local feel.
HEALTHY EATS [much more than a green juice]
Do you fancy a really good espresso and a green juice at the same time? Shake Cafe & Juice Bar is your best bet. They actually have two locations in Florence, we always went to the one on Via del Corso as it's more central, just a few steps south of Cathedral di Santa Maria del Fiore. I liked their 'ABC' juice, as well as their Vegetariana wrap. Menu changes seasonally and food is locally sourced, of course!
CAFE STORIES [our favorite coffee places]
Not far from our hotel, in the northeast corner of Piazza della Repubblica, one of the most classic art nouveau cafes, Caffe Gilli is located. It is tourist central, but try and order your cake, sip an espresso and watch time go by on the big clock within the glass door. The longer you stay, the more likely you'll find yourself back in 1900.
Caffe Concerto Paszkowski next door to Gilli has a similar feel, so if you enjoyed the latter, come and sip your tea here for a change the next day.
A minute walk from our hotel, Caffe Giacosa is located. This cute, Roberto Cavalli run cafe and Florentine institution has been around for over 200 years. Have your morning cappuccio sat outside or in the evening, opt for Negroni cocktail, which btw, was originally invented here in 1920.
Gucci Museo Cafe Sugar cubes in a shape of the Gucci monogram? Yes, of course. Lovely lattes and good snacks, this is a great cafe to stop by to rest your feet on your way from anywhere to everywhere as it's conveniently located, right opposite Palazzo Vecchio. It's super laid back, even so that you can bring your computer here and catch up on some work. Gucci Museum upstairs is a must, so read below.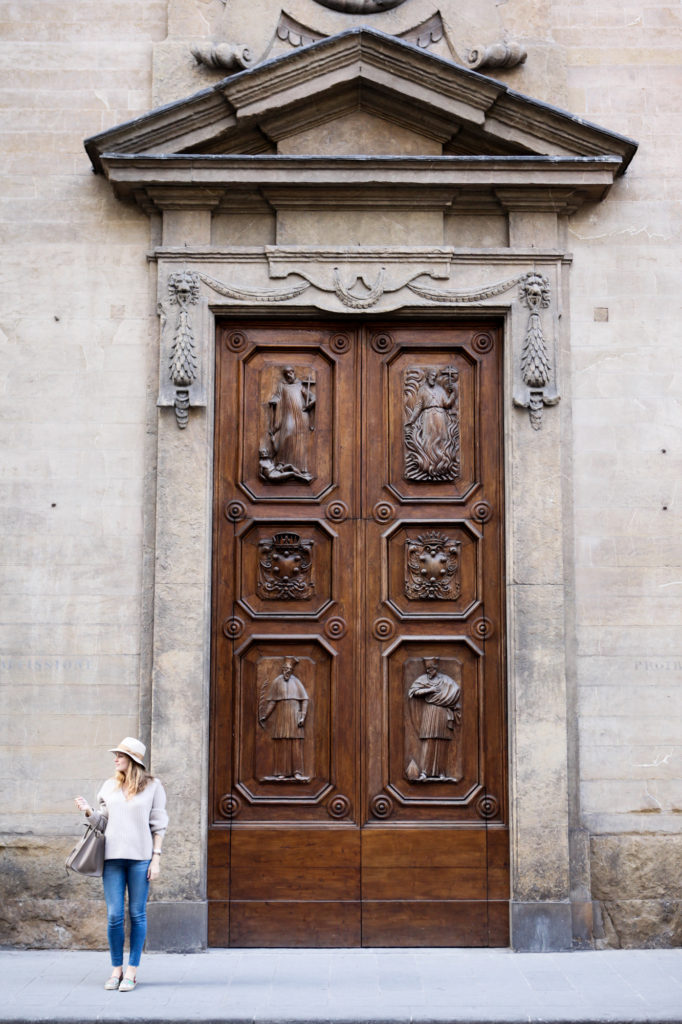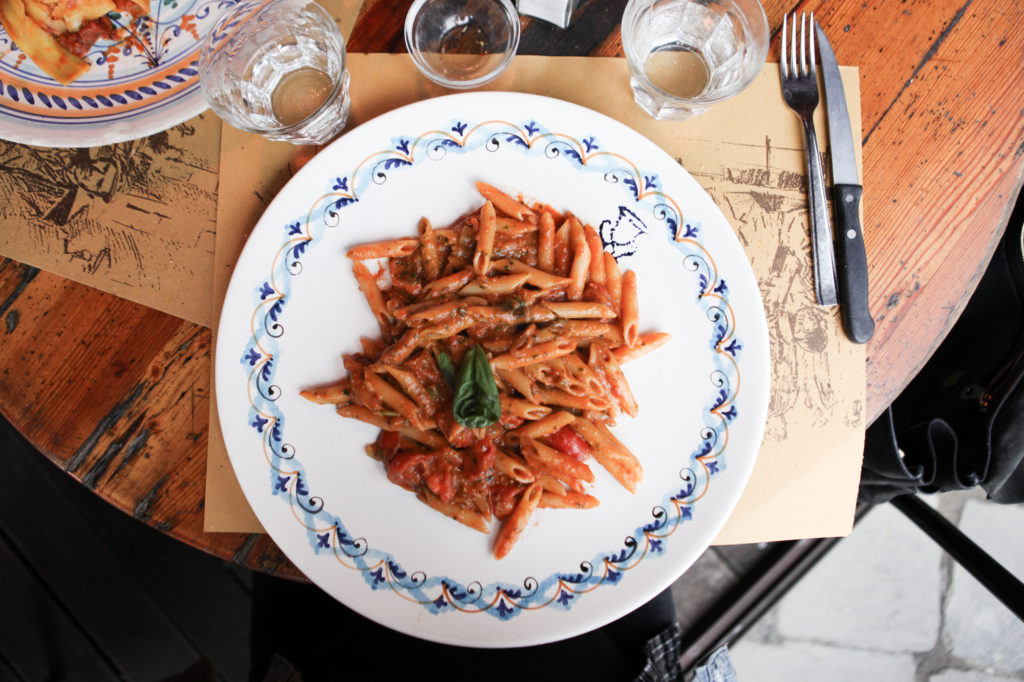 Having pasta at Piazza Santo Spirito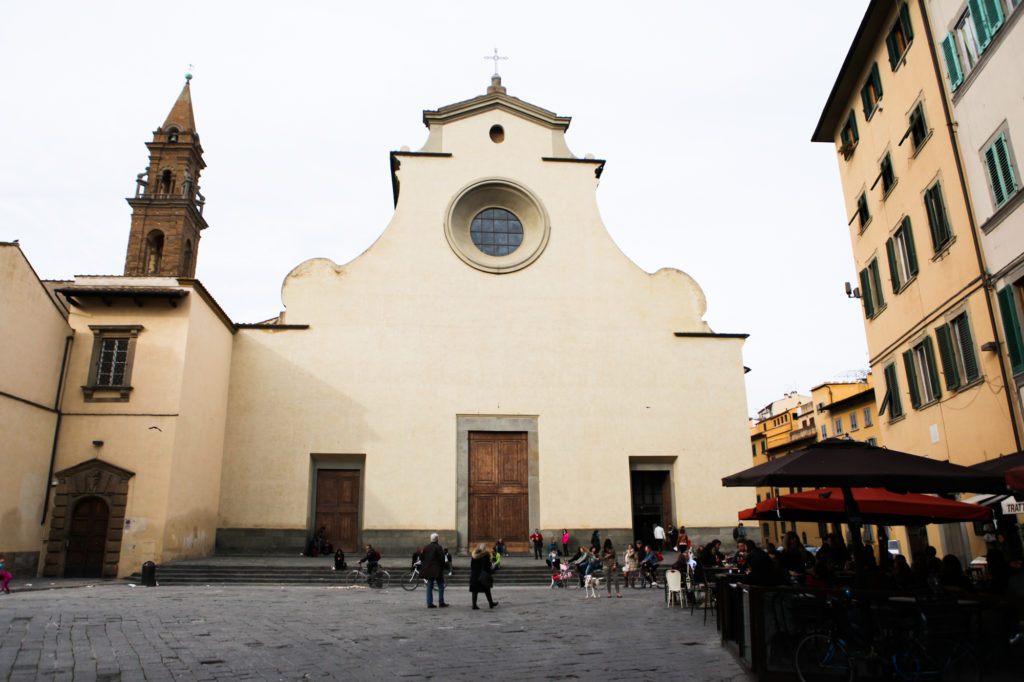 Basilica di Santo Spirito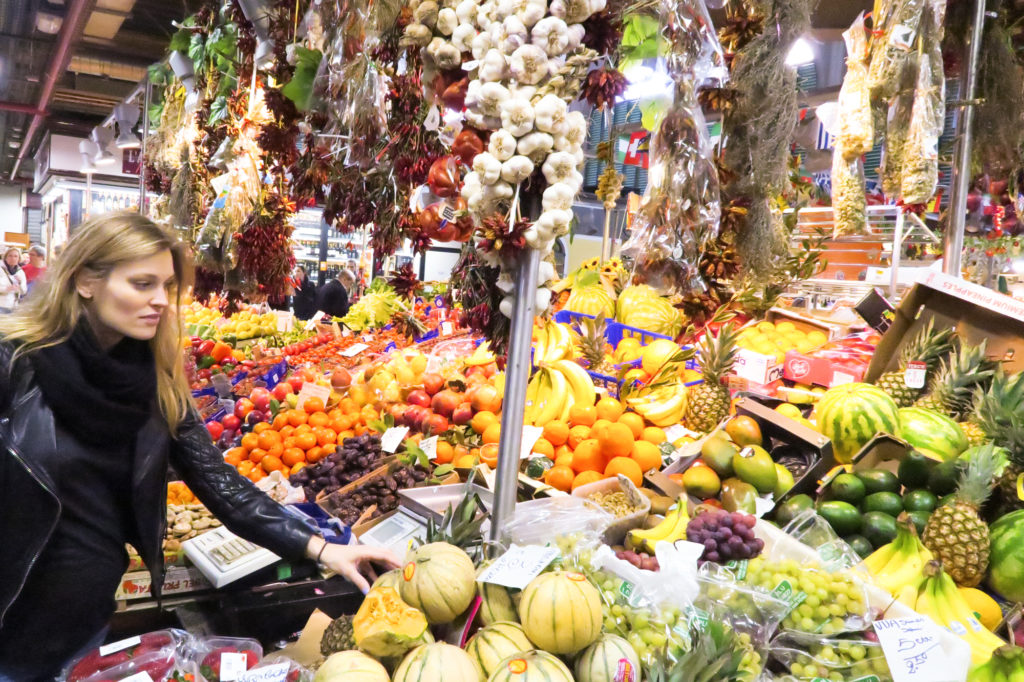 Strawberries shopping at Mercato Centrale
———————
– EXPLORE –
NOT TO MISS […under any circumstances, aka good sightseeing stuff]
David. Period. So we went, we saw and it's true, he's huge and he'll make you feel super unfit!
Having such great (to be mild) expectations, there's nothing disappointing about David. He's bigger than I've ever imagined- almost 3 times my size to be exact (Goliath must have been huge!) and carved so exquisitely that you'll just want to stare at him all the time. And, he'll stare right back with those huge, warning eyes that Florentines actually positioned towards Rome, who constantly threatened Florence's independence, to scare them off!
The muscles, sorry the marble looks so alive, that you're just waiting for his chest to go up and down and start breathing.
If you book in advance, you'll be stood in front of him in under two minutes, no queuing for an hour. Get your tickets here, it's worth it: Firenze Musei: Galleria dell'Accademia. If you want to see the original one first, make sure to walk with your eyes closed outside of Palazzo Vechhio & on Piazzale Michelangelo, where the copies are located or simply come here first, before exploring the rest of Florence.
Ponte Vecchio. I actually enjoyed Ponte Vecchio more by looking at it from a nearby bridge and the riverside. The view from Ponte Santa Trinita is spectacular and it's crowd free. Its little box-like houses are so pretty and they'll make you wonder, if they check on them regularly as the balance doesn't seem right? Butchers were replaced by jewelry shops in the 16th century here, as apparently they used to toss unwanted meat into Arno, which didn't seem to make the Medici family happy.
Gucci Museo What an amazing surprise this was. Located on Piazza della Signoria, right opposite Pallazzo Vecchio is Gucci Museum, where you can learn all about this, originally Florentine, fashion house. The exhibition is done well, not overwhelming and you'll be surprised to learn that Gucci was initially a luggage shop. I always used to think that they were saddle makers?! It's surprisingly crowd free and you'll get to see some beautiful iconic dresses too. Of course, Gucci Cafe for fuel and Gucci Gift Shop for gifts on the main floor are mandatory stops.
ARTSY FARTSY STUFF [our favorite museums & galleries]
Ufizzi Gallery is a must, especially for people who admire Caravaggio, Botticelli, Michelangelo and da Vinci among many more Italian masters. The visit was very special for me, as I've been wanting to visit it forever. The building is a masterpiece by itself. Bring good walking shoes, lots of water and book in advance for the morning time slot, you won't queue at all!! Here's the link: Firenze Musei: Ufizzi Gallery My most favorite? Caravaggio's 'Bacchus' and Boticelli's 'Primavera'. A girl with a flowery crown to the right of Venus wears my dream dress. Michelangelo's 'Doni Tondo' (this time, Mary's arms will make you feel unfit) is located in Room 35 and don't forget to look out for Pieter Cornelisz' 'The Soap Bubbles', this was my own little cute discovery.
PSSST!! [aka go only if you can keep a secret]
Museo del Bargello aka Michelangelo's sculptures and no one seems to wander here to see them, therefore no need to get tickets in advance. Downstairs in the museum, you'll find Michelangelo's early works- God of Wine 'Bacchus', bust of 'Brutus', 'David/Apollo' and unfinished roundel 'Tondo Pitti', commissioned by the Pitti family, of course. I prefer this one to 'Tondo Taddei' roundel, which is located in London, as Tondo Pitti's composition of Maddona and Child is much simpler and I find it more beautiful. Come and see and let me know what you think?
Under no circumstances, skip a visit to Grande Museo del Duomo. Michelangelo's 'Bandini Pieta' ('The Deposition') is located here. According to Vasari, this sculpture was intended for Michelangelo's own grave as he started working on it at the age of 72 (apparently to keep himself young and fit?!) and no record of commission has ever been found. It's absolutely spectacular and worth little detour while sightseeing the Duomo (it's located in the north east corner, of Piazza del Duomo).
Palazzo Vecchio Some art specialists believe that behind one of Vasari's frescoes in the grandiose 'Salone del Cinquecento' of Palazzo Vecchio, lies the magnificent, long lost 'Battle of Anghiari' by none other than Leonardo da Vinci. Well, Vasari believed it himself as he left us a clue, so naturally, we HAD TO go find out.
The art historians think that there's another wall that stands behind the current wall of the Palazzo, on which da Vinci fresco is depicted. They say that Vasari actually left us a little hint in the words of 'Cerca Trova". Search carefully (bring binoculars!) for these famous words of "Those Who Seek, Will Find" written on the green flag among the heads of Siena troops on the 'Battle of Marciano' aka 'Battle of Scannagallo'. This is, where you need to look.
Twenty years of research has been done, microscopic holes were drilled through Vasari's piece in the never ending search for da Vinci's masterpiece, nothing was proved, only little suggestions, or perhaps, nothing was proved just yet as there are people still looking?
So, you're here, your head lifted high, right in front of Vasari's 'Battle of Marciano' a battle that made Medici family even more important and influential, now look closely, try and concentrate…. Now close your eyes! Can you see it?
TOURISTY BUT WORTH IT
On Piazza del Duomo, you'll find Florence's most photographed sight, its Duomo- Cathedrale di Santa Maria del Fiore, the third largest cathedral in the world, as well as spectacular, almost 85m tall Giotto's Campanile.
Climbing the Bell Tower's (Campanile's) 414 steps is truly worth the effort for the most spectacular views of the orange rooftops and green hills of this renaissance city. The lines are long, but you can buy a combined ticket in advance here and avoid them all together, that's what we did. It will get you in the Campanile, inside of the cathedral and its baptistry, as well as up the Cathedral's Dome (designed by Brunelleschi!), well you'll have to do the climbing.
The Cathedral is touristy, but so worth exploring. I find the facade to be incredibly different from any church I've seen and I really love its pastel pink and green colors, even though it's the Cathedral's most recent- 19th century addition.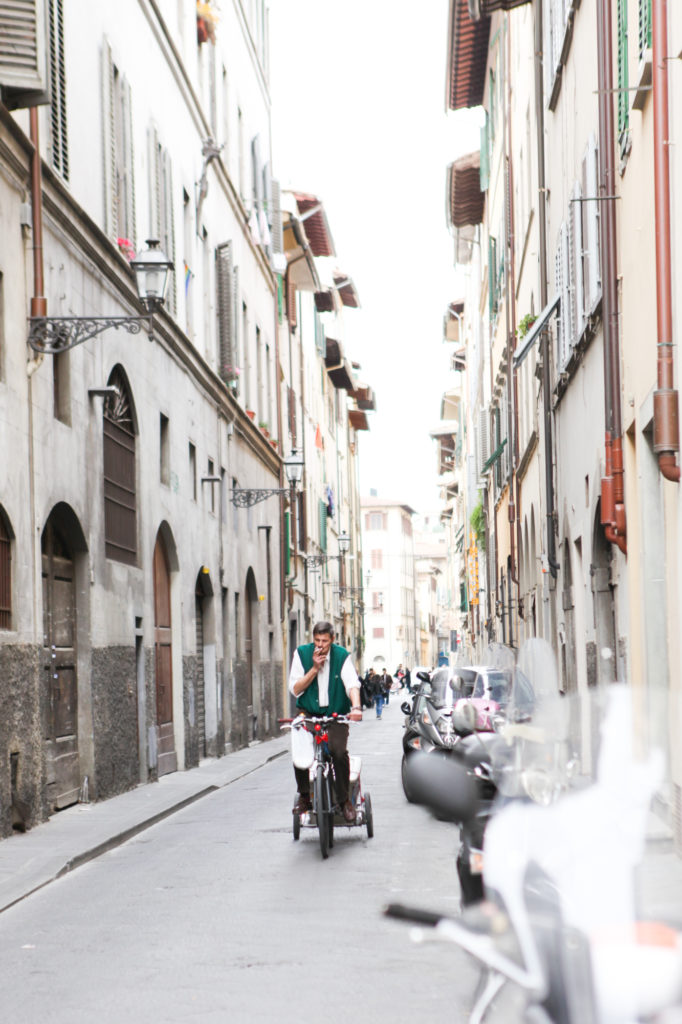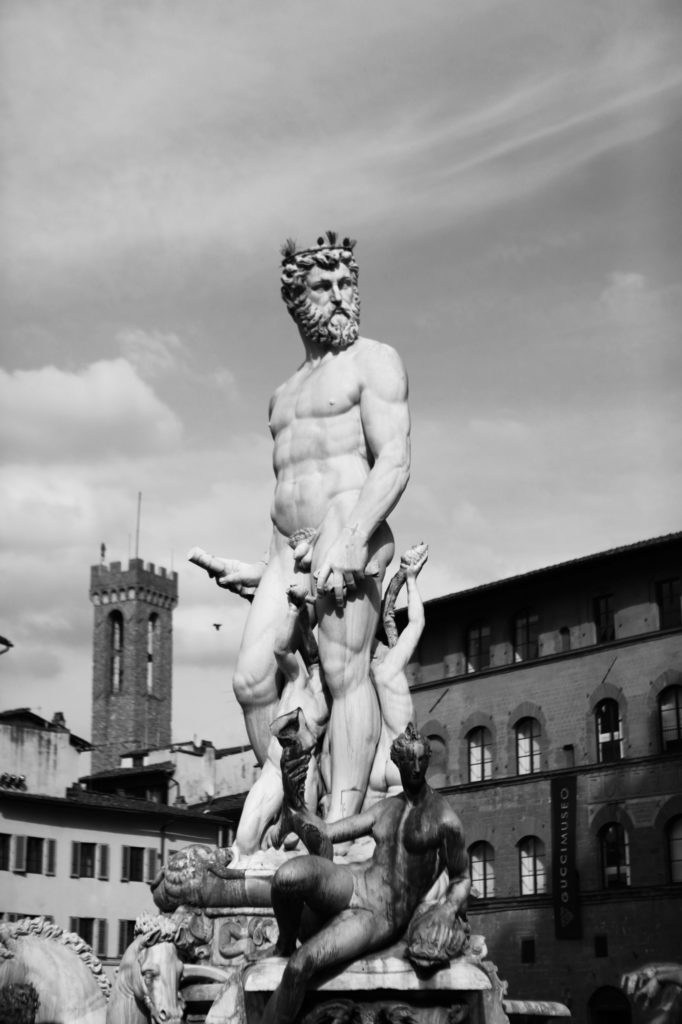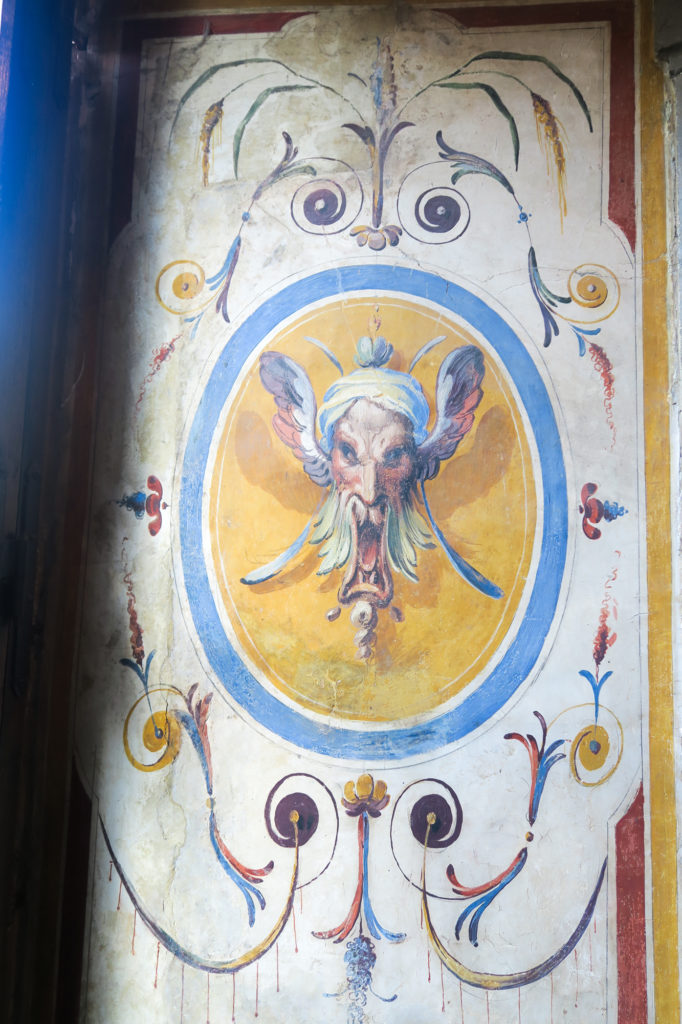 ———————
– FIT DO –
MAP YOUR RUN [our favorite running spots]
All you  need to do is follow the Arno.
———————
– BE –
COMFY SLEEPS [our favorite hotels]
We stayed in a lovely hotel called Room Mate Isabella. It's super central and easy to walk everywhere from here. I was six months pregnant when we stayed here and super jet lagged when we got here that day from New York. We decided to skip dinner and just grab a few fresh groceries at a local supermarket and bring it to our room. A few seconds after walking into our room, we hear a knock on the door. The hotel staff noticed and brought us plates and cutlery, they also offered to help with anything else and wished us a lovely dinner. These are the little details that make you come back. Breakfasts here and so fresh and yummy too. The Gucci store right downstairs allows you to shop right from your room, they'll bring it up! Gucci is an Italian brand, so you're saving money anyway, that's how I see it.
———————
– GET –
GREAT SHOPS [and gifts too!]
Giulio Giannini e Figlio After visiting this cute little shop in Florence, I made a note in my Lonely Planet guidebook, calling it 'The Magical Paper Shop' as I couldn't remember its full and proper name. And it's nothing short of that. Originally, a stationery shop that rediscovered bookbinding and started an epoch called the 'Florentine Style' bookbinding, by using decorated wrapping paper to bind books instead of leather or parchment, a true innovation. I went a bit crazy and got different wrapping papers with all kinds of prints, just for inspiration and to use for different type of my little art projects. They are just beautiful. This shop is a must on your way to explore Palazzo Pitti, or should I say…Palazzo Pitti is a must on your way to this exquisite stationary treasure, founded in 1856. And now you have your gifts to take home too.
(For geeks like me, I love this article, which is interview with Maria Giannini, 6th generation of the Giannini family, if you're interested, read here: The Florentine Art of Bookbinding)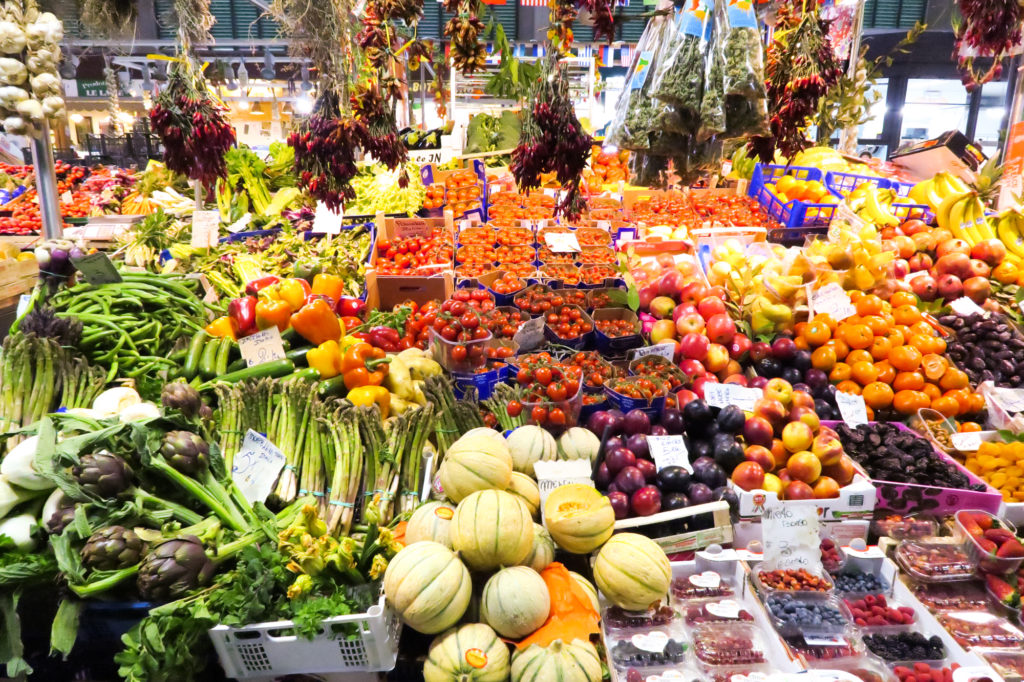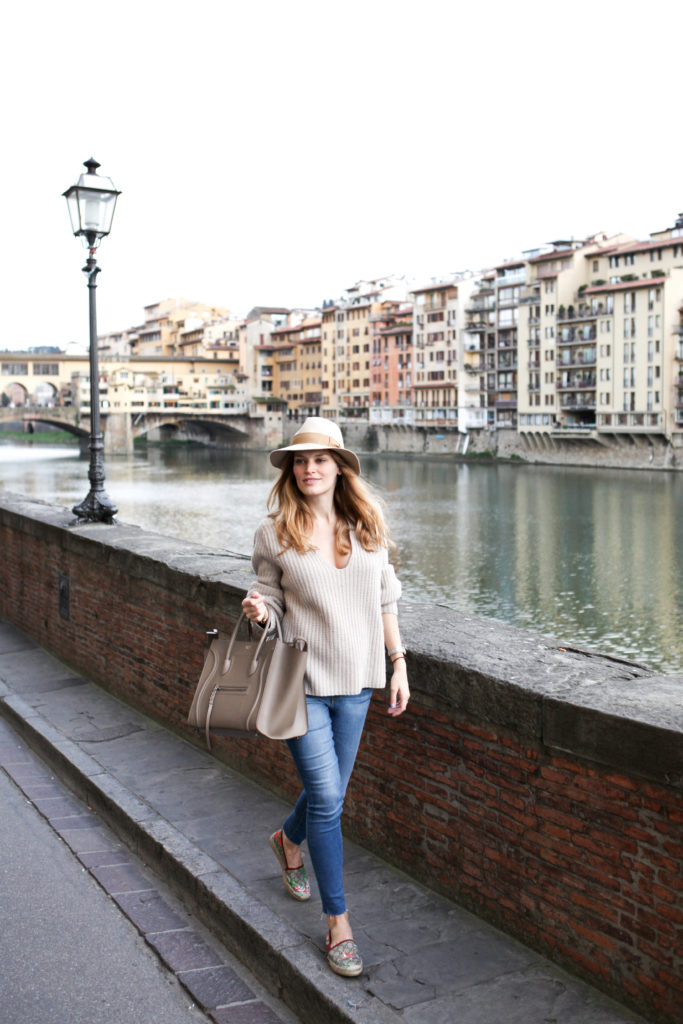 — WEAR— (in March) Hat, override; Sweater, Acne Studios; Maternity Jeans, AG Adriano Goldschmied; Bag, Celine; Espadrilles, Gucci
———————
– LITTLE EXPLORERS –
LITTLE ONES' FAVORITE 
The Carousel in the Piazza della Repubblica is amazing, not just for kids!
———————
-NEXT TIME-
Palazzo Pitti & Giardano di Boboli Whenever we crossed the bridge to get here, we found the palace and its adjusting gardens to be closed, so this is on top of my list when we're in Florence next, in August. The Pitti family were Medici's biggest rivals, so It would be intriguing to see their 'living standards'.
Giardano Bardini Again, on the very top of my list, is to climb the stairs up to these magnificent gardens for some walks and views of Florence. Last time we tried, it rained so much, we changed our plans.
Also, next time, under no circumstances we can miss Piazzale Michelangelo, for the most stunning views of Florence.
Officina Profumo Farmaceutica di Santa Maria Novella One of the oldest pharmacies in the world from the early 13th century. The architecture and decor is meant to be spectacular, it will allow you to travel back in time apparently. It was recommended to us by all our friends, but somehow we didn't manage to squeeze in a visit. It's definitely on our agenda next time. If you go before us or have been already, please let us know how you liked it and what to see?
———————
– TIPS –
If I could give anyone a tip, it would be, plan ahead. By booking in advance, you'll save yourself so much time and prevent the whole museum experience to become dreadful and tiring. David (Galleria dell' Academia), Galleria Uffizi and the top of the Campanille are the magic three, that you'll need to get tickets for in advance. The rest, we didn't worry about.
And now… forget everything I just said. Forget all the names, piazzas, gallerias, art history styles and artists' names. Just go with an open heart, free of expectations. All you need to know is: "There's a MASTERPIECE, and it's called FLORENCE."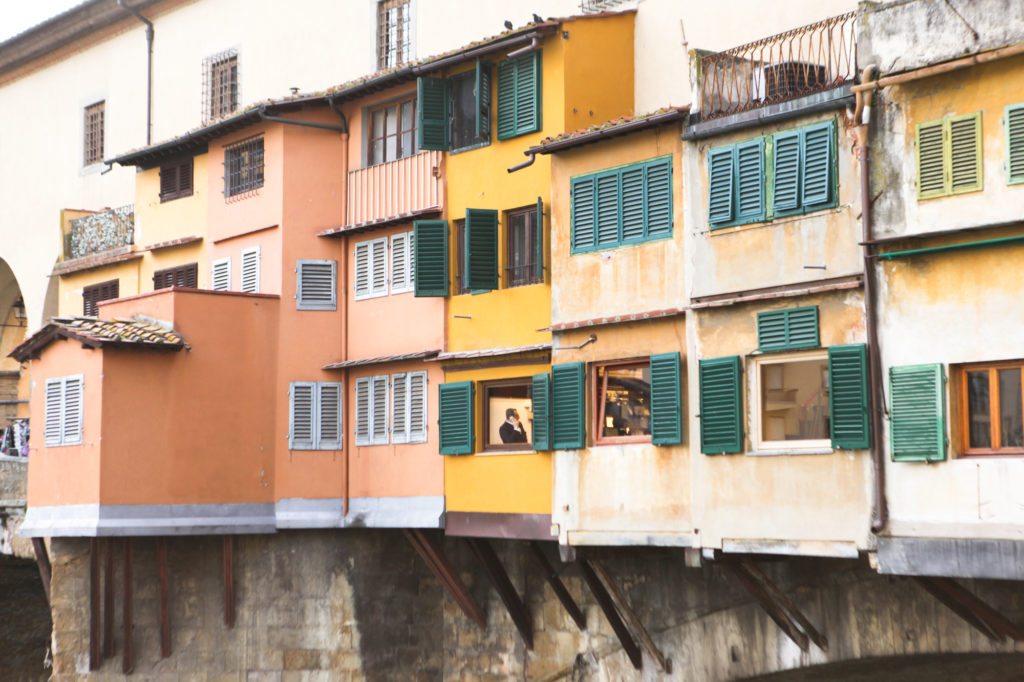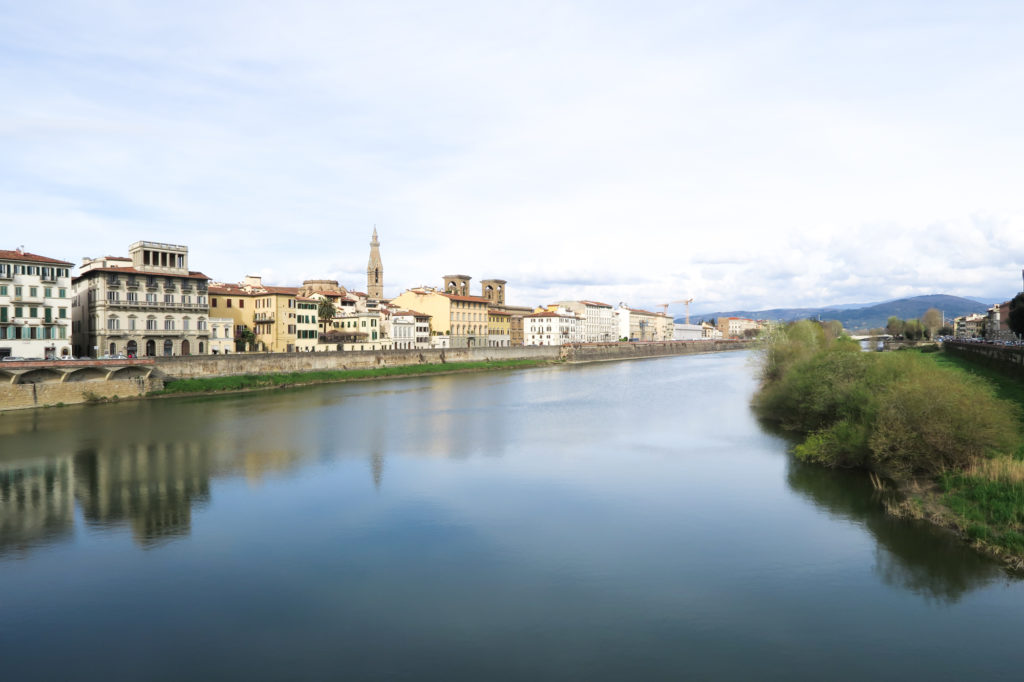 PISA
About an hour drive west of Florence, stretching by the banks of the same river- Arno, there's the city of Pisa.
Pisa, known for one of the world's most famous towers, a bell tower, that tilts (quite a lot!).
This was a true bucket list for me!
Piazza dei Miracoli and The Leaning Tower of Pisa
Climbing Torre di Pisa's 300 something steps, you'll feel drunk. No matter how you try to position yourself, you'll always feel off, or as if someone is pushing you to one side. And the moment you think you managed to compensate for it, you'll find yourself to be completely off again, just because you climbed that one more step.
The Pisa Tower was surprisingly shorter and chubbier than I've imagined, but nothing short of FANTASTIC! What a sight! You can't believe your eyes; you can't believe that it's still standing, even when every computer program says it shouldn't be. Well, up until the1990s the tower was about 4,5m out of plumb, when digging of soil under the elevated side had begun to remove about 70 tons of earth in order to make the tower sink back to its early 19th century position- straightened by 47cm. Apparently this and ten more years of other corrective efforts did the trick and can therefore guarantee the tower to keep put and steady (I guess that's too much to ask, it gets windy up here) for at least the next 300 years (or even longer, if history repeats?)
When on top, walk towards the south side, towards which the tower is leaning. It's super scary and it will make you question physics and yourself, there's nothing underneath you. I remember being stood there, pregnant, wishing I had skipped that big bowl of pasta that day, thinking about how much my weight was adding to the weight of the tower and was influencing the tilt, hoping the architects have accounted for it?!
You can book in advance. I'd do so as on the day, you'd have to get lucky to snatch tickets. You can book up to 20 days in advance, but no later than 12 days before visiting, so you have a really short window here, quite tricky, I know, but doable: OPA Pisa
On the 'Square of Miracles', stop by Pisa's romanesque Cathedral (Duomo) and perhaps get inspired the same way, Galileo Galilei did. When watching a lamp here, apparently he figured out the laws of pendulum?! The combined ticket (link above) will take you to Baptistry as well, where you can listen to the unbelievable echo effects due to the double dome design, as well as to the local cemetery (Camposanto).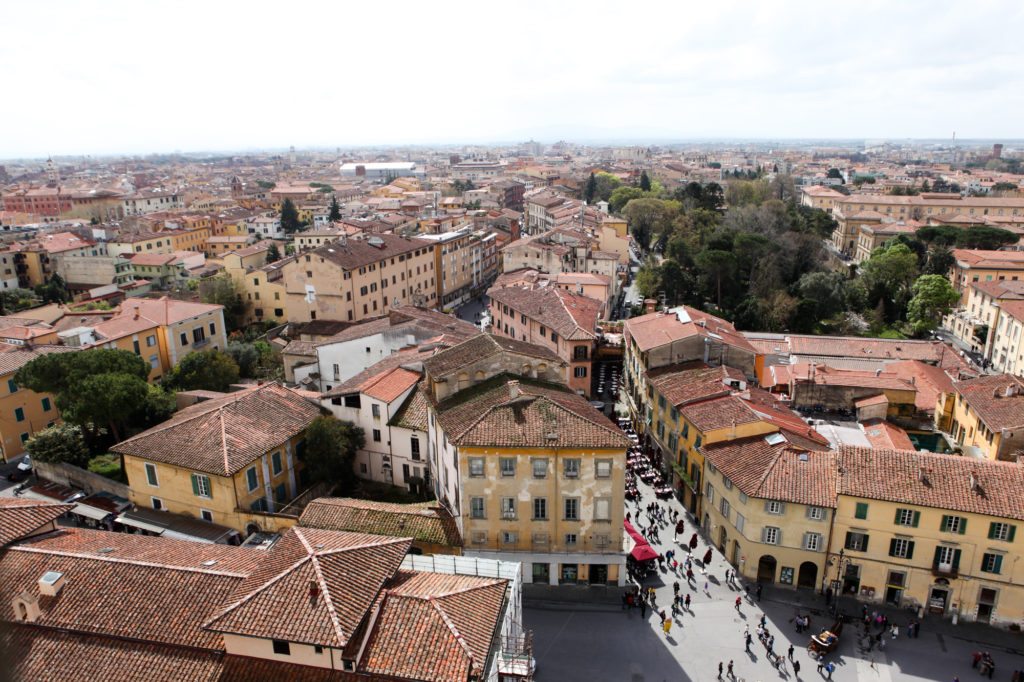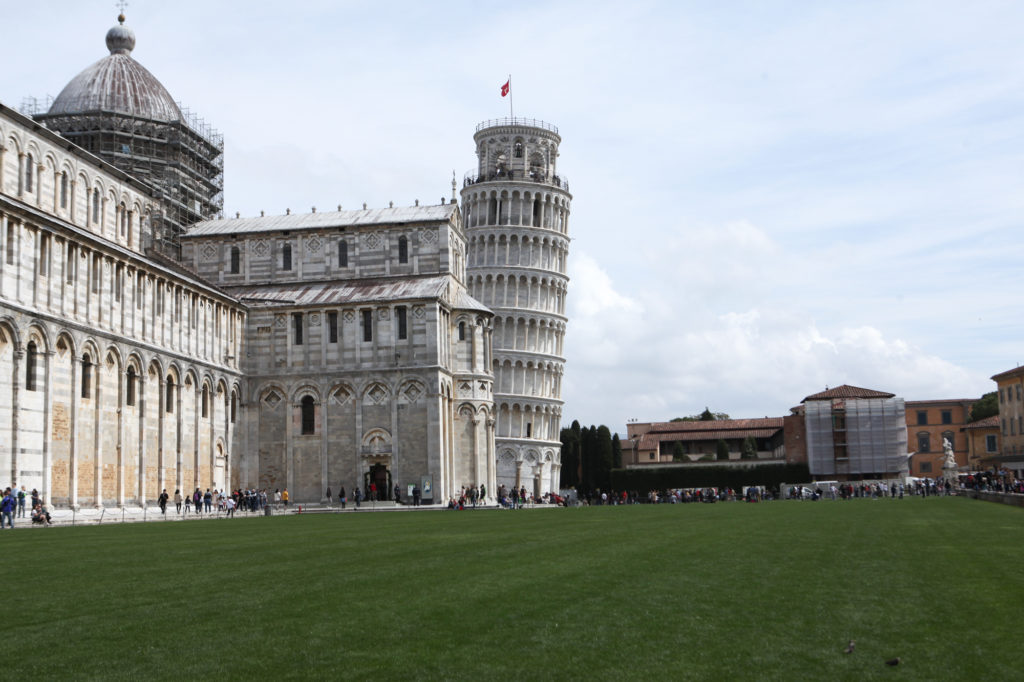 Prossima fermata, aka next stop in this month's 'Italia Issue'? VENICE… Read next week…
More about Italy, you'll find here.