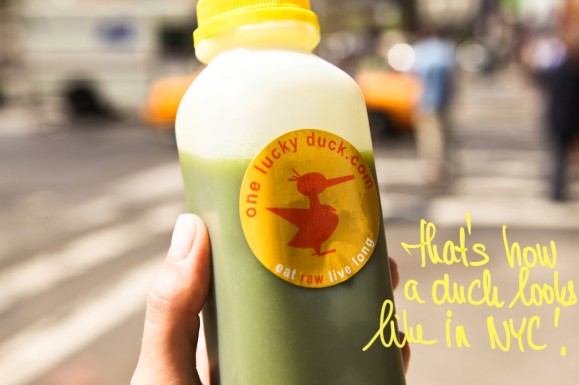 ….is another lovely green juice place in NYC. Do you remember Liquiteria on the East Side? Well this is very much the West Side equivalent, so if you find yourself over there, running around in the Meatpacking District and in urgent need of a 'green juice fix', to freshen you and make you feel healthy, One Lucky Duck in Chelsea Market is the right choice. I find that their juice tastes slightly different every day, which is always a nice surprise. I guess they vary the ingredients, or maybe it's just me?
There's also a tiny second location with just 3 tables in Gramercy, yet another place to stock up on your juice collection. What would we do without green juices? Seriously… you're with me on this by now yeah?
It is a bit pricey, so if you have taken my advice and invested in a blender at home don't forget about my recipe and try it yourself as well.
Have 'one lucky day'!
Adela x
Meatpacking: Chelsea Market, 425 W 15th Street (at 9th Ave)
Gramercy: 125 E 17th Street (at Irving Pl)