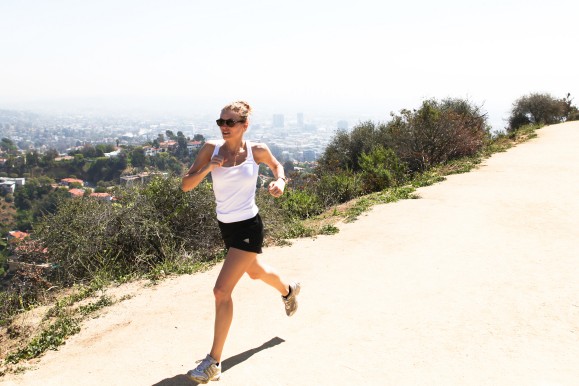 A little while ago I wrote about my favorite runs, so I thought I'd share a bit more about my favorite running locations, their challenges, the tunes I like to listen to, iPhone apps I use and gear I wear. Well, on gear you might want to give me some advice, I haven't really purchased running clothes in a while and somehow always tend to leave it too long and worn out see-through leggings are never a good look, under any circumstances!
You guys let me know about your favorite places to run as I'd like to get more adventurous and always want to try new routes in each country I visit, perhaps I'll bump into you and steal some of your motivation.
Happy running and many worn out leggings!
Where: Runyon Canyon Trail, Hollywood Hills, Los Angeles
Start Point: Fuller Avenue Entrance
Finish Point: Fuller Avenue Entrance
Mileage: 3,6 miles = 5,8 km
Challenges on the way:
1) ELEVATION! It's super steep, I always wish I had stayed home on the way up but feel fabulous when running down and usually very proud of myself for making it to the top. It's a short trek but it will make your leg muscles work, especially your calves which will suffer the next day.
2) PEOPLE. It's always very busy, don't expect to hide away in solitude here, the whole town actually hides here.
Why I like it:
1) It's a real challenge, you feel like you've worked out really hard. It's especially hard on  a hot L.A. day, which I love, the harder the better.
2) The VIEWS of Los Angeles are breathtaking.
My California playlist:
The Beach Boys- Surfin USA (2.29)
Embrace- Ashes (4.22)
MGMT- Kids (5.03)
Orson- No Tomorrow (2.49)
Maroon 5- Moves like Jagger (feat. Christina Aguilera) (3.22)
Amy Winehouse- Valerie (3.36)
Kings of Leon- Fans (3.36)
Modjo -Lady (5.05) – one of my high school favorites, don't judge!
Fio Rida (feat. Sia)-Wild Ones (3.54)
Take That – She Said (2.33)
Foster the People – Pumped Up Kicks (4.00)
Mika – Love Today (3.55)
Florence + The Machine – You Got the Love (2.48)
Beatles – Rock And Roll Music (2.34)
Cee Lo Green – F**k You (3.43)
Madcon – Beggin' (3.36)
Jim Jamison – I am Always Here (3.21) Let's finish the playlist with my classic- the 'BAYWATCH' song, oh yeah!!!