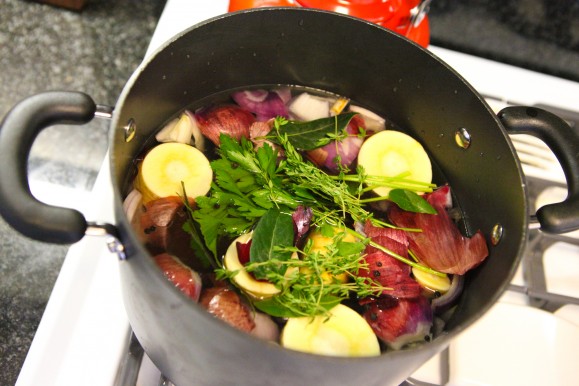 I'm catching up on my studies (my exams start on Monday, scary!) and incorporating some good workout in between, a bit of Tracy here, a bit a BB there, while my home-made vegetable stock is magically shaping it's way into the world, for over 3 hours now.
This is my new favorite thing (gosh, this girl's boring!), okay one of a few new favorite hobbies, along with many other things, that are less 'square' and boring I swear!
If you manage to get three hours at home on a weekend, throw your favorite veggies in a large pot! In my case: 2 red onions – throw in the skins as well, 3 medium carrots, 3 celery sticks, 1 large parsnip– chop into chunks but not too small, throw in some fresh herbs as well: some whole peppercorns, 3 bay leaves, a handful of thyme and a handful of parsley, then sprinkle with a bit of sea salt, cover it all with 3 litres of water and simmer for as long as you can. (3-4 hours).  When done strain it through a cheesecloth or a sieve and voila your vegetable stock is born, just like in the olden days.
I guarantee any meal you'll make the following week will taste much better, be much healthier, super rich in minerals and your house will smell amazing.
Here's a recipe for my favorite, filling soup that includes this vegetable stock , you can make it for Sunday lunch and it will feed you for almost a week. It's just a simple recipe out of millions of meals that will make use of this stock, be it soups, stir-fries (you'll end up using less olive oil, which is much healthier), stews or meat dishes, all will work great with this. Store it for up to 3-4 days (depending how cold your fridge is) or freeze it for a later use.
Skin glowing carrot & lentil soup
Serves 4:
1 litre (34 fl oz) hot vegetable stock
1 tablespoon coconut oil
1 onion, chopped
3 cloves of garlic
4 large carrots
3 large celery sticks
handful of fresh parsley
200g (7 oz) red split lentils, soaked for a few hours (or overnight) for a better digestion and to get rid of any possible moldiness. If there's no time for soaking, at least rinse them thoroughly!
How to?
1-    Heat the coconut oil in a large deep pan, then add onion and garlic and sweat for approx. 5 min
2-    Add the carrots, celery sticks and lentils. Add your 'well-earned' and delicious vegetable stock. Cover and bring to the boil. Simmer for about 10 minutes.
3-    Add fresh parsley and simmer for a few more minutes (5 min max or until the lentils have softened properly).
DONE and DONE!
Happy Easter everyone!