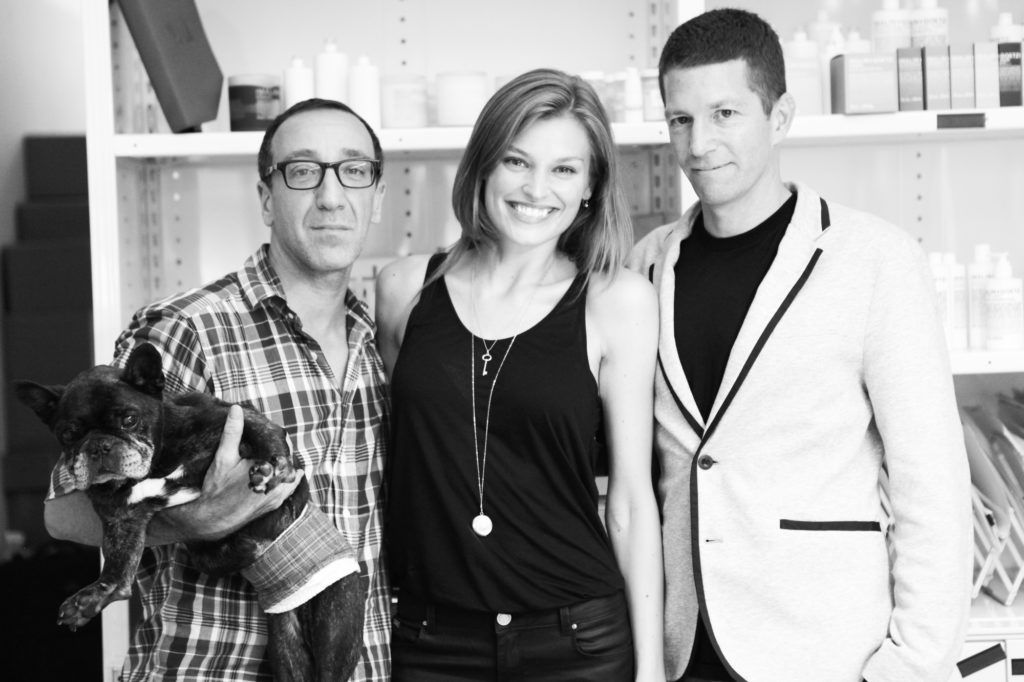 As I promised here is my interview with the amazing Matthew Malin and Andrew Goetz.
Adela: So how did it all start?
Andrew: Matthew and I are business partners, but we are also partners in life and have been for seventeen years.
I was a typical guy, soap for my face and any shampoo for my hair, but Matthew had some skin issues; he has a little rosacea and had very sensitive skin. Matthew would bring home all these products from work, he was the cosmetic buyer at Barney's, and then he worked in distribution for Kiehl's, using the samples he brought home, I began to see that better products give better results.
We always had an entrepreneurial spirit, so when Kiehl's was sold to L'Oreal we thought it was a great opportunity to do something really special, soulful and also modern and simple. I come from a designer/ architectural world, so the idea was to combine both our careers and create products that were efficacious and great for sensitive skin. Family owned and operated with the promise to make skincare easier.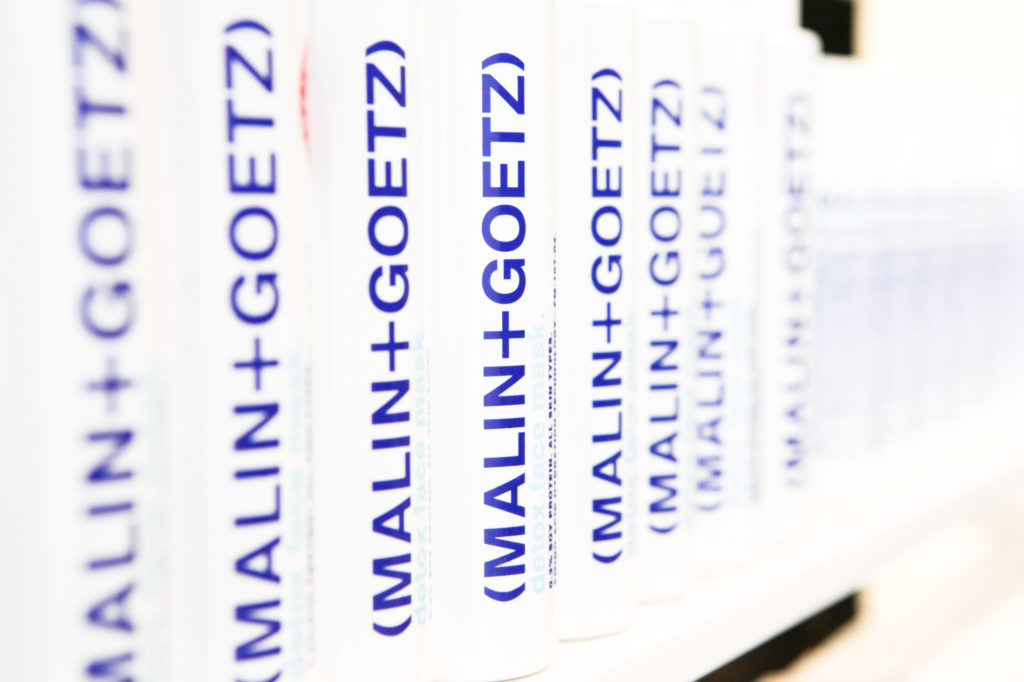 Adela: You produce everything locally. Is it becoming harder to do this since 2004 when the company was founded?
Andrew: I would say that it's become easier as we've continued to work with the vendors. Year one was tough, but it's now been seven years and the relationships are strong. We're bigger clients now, so we're more important to them.
Matthew: We live in NYC where the beauty industry is based, at least for the States, so going local seemed obvious. It's become easier as we've grown because we've focused our energy with a few key manufactures and they've grown with us. We've also achieved a scale that helps us to keep our prices down and our customers happy.
Adela: So easier because you're successful yeah?
Both: Yeah! (Laugh)
Andrew: It's a bit 'Yin and Yang'. Something's become easier but with scale some things are more complicated.  The finances, there's a lot more money coming in and out now, the 'out' can be hard to swallow, (laughs), just kidding.
Using local keeps our carbon footprint down as well and from a quality stand point, if we're here during the manufacturing process we can ensure quality is consistent. No corners are cut as they could be in Asia or abroad without hands on supervision from us.
Matthew: We're committed to our suppliers and the idea of staying local. With good, honest relationships right here, we don't need to go to China to save money. We also like to work with other family owned and operated manufacturers to support the local business community.
Adela: What has been the biggest challenge over the years?
Andrew: I would say the manufacturing. Not the quality of the formulas but the packaging has always been difficult. Did we use the right ink, paper or plastic? The process of making the bottles is very complicated, the combination of ingredients and heat has to be perfect or thousands can be lost, there are so many variables.
Matthew: Those things aren't just science, it's an art and it takes real expertise. The problem in the beginning was that we were too small for the manufactures. They didn't know us or trust us and didn't want to do small product runs for us. It was also hard to convince them of the quality that we wanted to produce.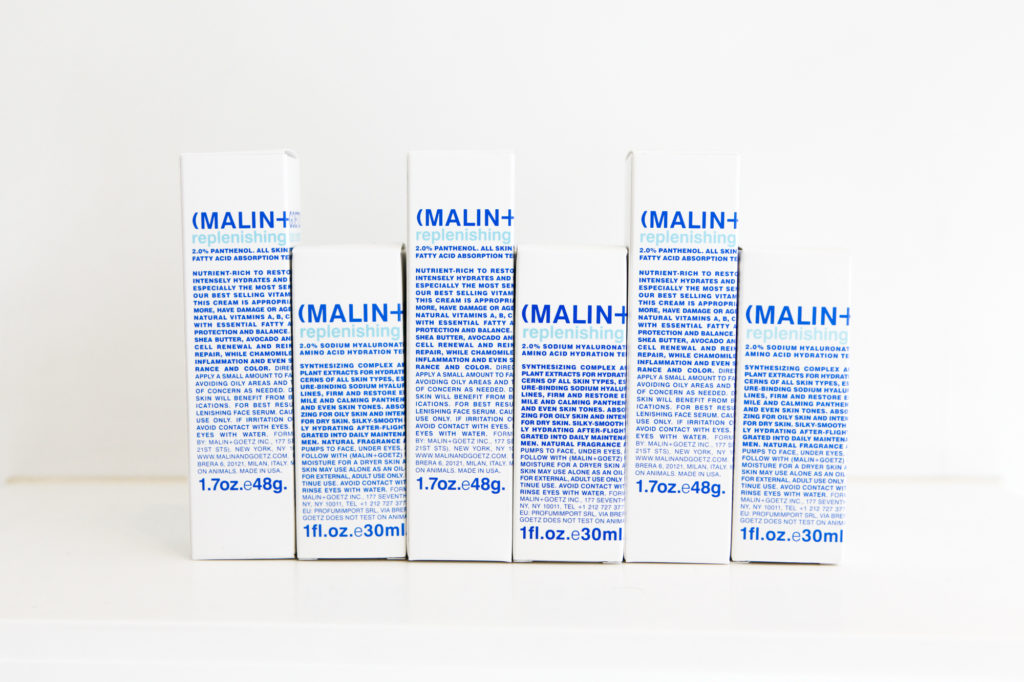 Adela: What's your personal favorite from the product line?
Andrew: You're probably too young to know the book 'Sophie's Choice'. Sophie has to choose between her two children, for me this is a 'Sophie's Choice' question, it's very difficult to choose just one product as I love them all!
Let me try and give you my top 5:
–  Face Cleanser
–  Detox Face Mask
–  Replenishing Face Cream (& Serum)
–  Eucalyptus Deodorant
–  Peppermint Shampoo.
Ha ha that's six, okay but those are the ones that I can't live without. There are many more but I can at least survive if I have these.
Matthew: If I had to choose one it would be the 'Grapefruit Face Cleanser', it's the starting point to everything else, conditioning the skin by cleansing it properly.
Andrew: You can't really live on bread and water you need other things!
Adela: I love your 'two-step routine'; I was tired of putting too many products on my skin, where did the idea come from?
Andrew: Often people put ingredients on their skin that are completely unnecessary, creating irritation and then using yet more products to treat the irritation, the circle continues. Not to sound cliché, but in the designer world less is often more.
Adela: I want to buy one of your candles for my sisters' birthday, which would you recommend?
Andrew: Scent is very personal. If she likes floral, our 'Otto Candle' is amazing. However, our 'Dark Rum Candle' was 'Allure Magazines' best candle of the year', it seems to be lot of people's favorite; it's a warm spicy scent. The 'Cannabis Candle' is really popular (probably because of the name) people enjoy that one. They're all good. It depends on your sisters' preference.
Adela: What are your plans for the company in the future?
Andrew: Well we're opening a store in Los Angeles. We're not a shopping mall brand so we don't want to be in 'The Grove' or anywhere like that. We've found a little place in 'Hancock Park', which is beautiful part of LA, old and aristocratic, just east of West Hollywood towards downtown; we're very excited about that.
Adela: What about new products?
Andrew: We're always thinking of new products but they have to fill a void for our customers. We look for solutions to problems not just trendy or repackaged products.  Our replenishing face cream is brand new, it's a nighttime cream for dryer skin or skin in need of repair, really beautiful. We've also reformulated our hand treatment so that's available now. We're doing body and face oil's too now.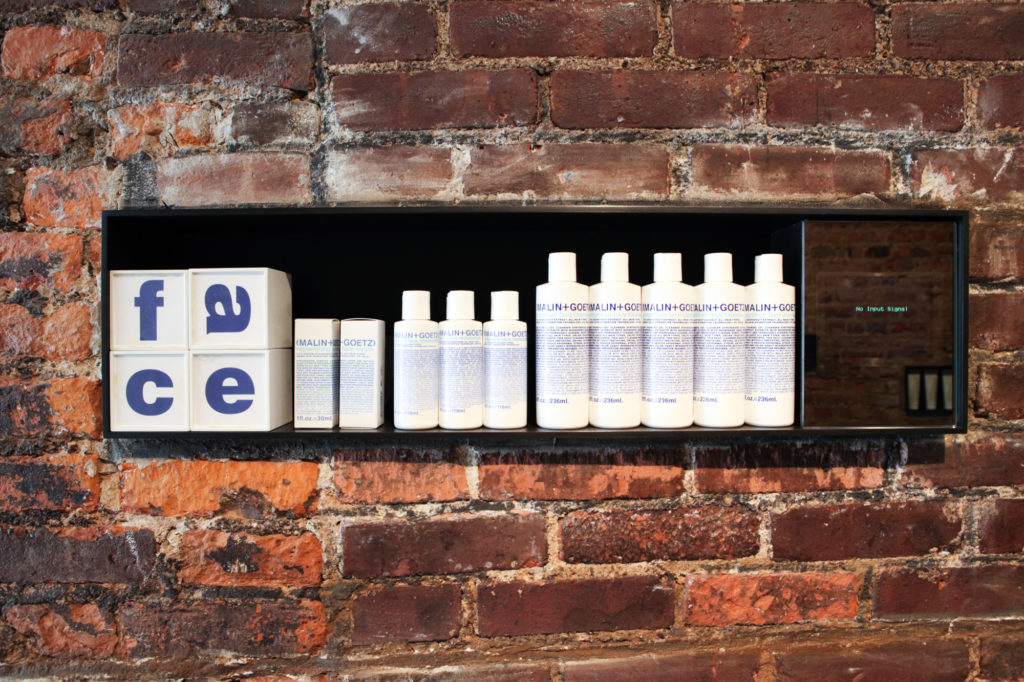 Adela: The design of your brand is amazing. You were exhibited in 'San Francisco Museum of Modern Art', is that right?
Andrew: Our graphic designers are pretty amazing. The company is called  '2×4', they do lot of designs for Prada and many other big designers. They had a retrospective in 'San Francisco Museum of Modern Art' so we were part of the show; it was pretty great as a young company to have our brand in the museum.
Adela: The look is great. Initially I recognized the products by appearance before I remembered the name, that's how I found you.
Andrew: I wish everyone was like you, even though the design is beautiful, sometimes it doesn't translate in middle America where they maybe don't appreciate the European design esthetic as much. You'll have to tell everybody!
Adela: I'll try my best.
Andrew: And they will believe it. That's how it works.
Adela: My last question, which I always ask: What is your favorite place in NYC?
Andrew: Ah, another Sophie's choice question. I love the High line and NYC culture is great, some amazing museums.
Matthew: We really love Central Park as well.
Adela: What about restaurants?
Matthew: We just went to 'Lupa' for my birthday, Mario Batali's restaurant. It's terrific, like 'Babbo' but half the price and without the one-month waiting list.
Andrew: What I like about NYC is the combination of high and low end. You can go really fancy and get a great meal but you can also go down and dirty in Chinatown and have equally good food.
I really like David Chang's, 'Momofuku' in the East Village, it's amazing. Best to go during the holidays when everyone is out of town, they don't take bookings and lines are long.
We also had a great time in a place called 'Roberta's' in Brooklyn, an amazing pizza place. A very industrial area but when you walk in it's like an oasis of hipster's, you know, totally happening! The pizza is extraordinary.
We also like a place simply called 'Diner' in Williamsburg. It's a classic American diner with an edge of sophistication.