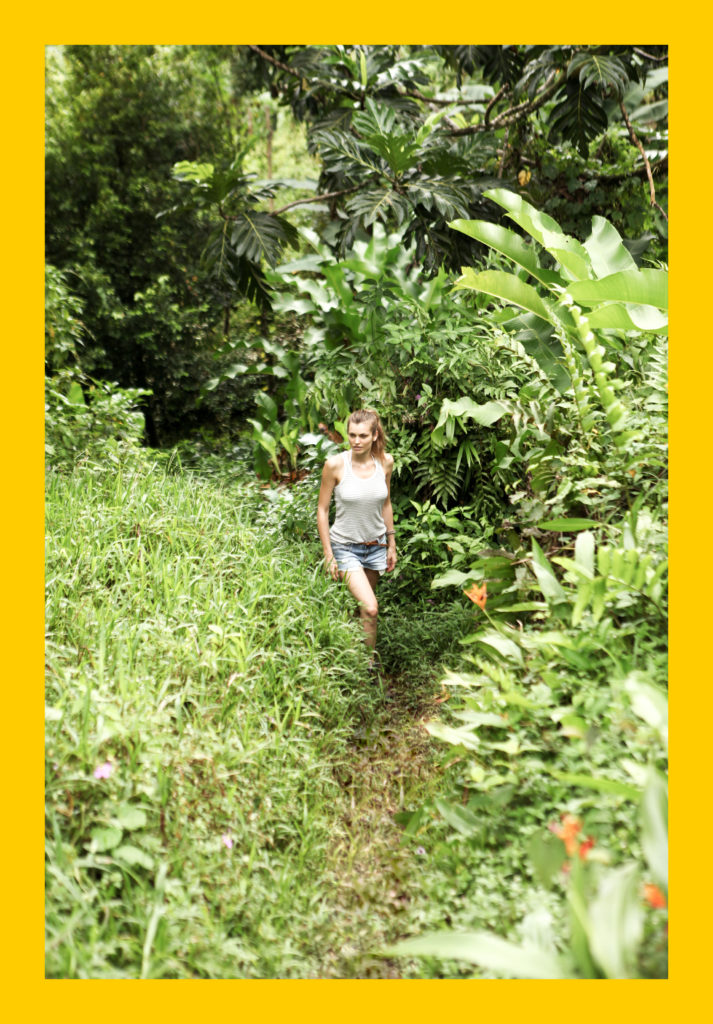 #adventureissue
Hiking is another form of meditation for me. There's time aplenty for contemplation, especially on our long hikes. Just being out there in nature is so liberating, yet comforting and truly grounding.
It's also exercise at its best. National Geographic magazine research has proved, that people who live the longest, are the ones who are active within nature. So get those boots on and let's get cracking.
My favorite hikes aren't actually about the finish line, they're about the journey.
This particular hike is obviously a slight exception, as there's a lake that boils at the end! You can't beat that one, but the journey here is truly special too: the 'Valley of Desolation' a large portion of this hike, feels like being on a different planet, so quiet, only bubbling streams. It almost gives you chills, like something is about to happen. A warm pool dip and a clay mask are mandatory, so is exploring the different colors of water and fumarole (opening in the earth that allows gasses to come up) vegetation.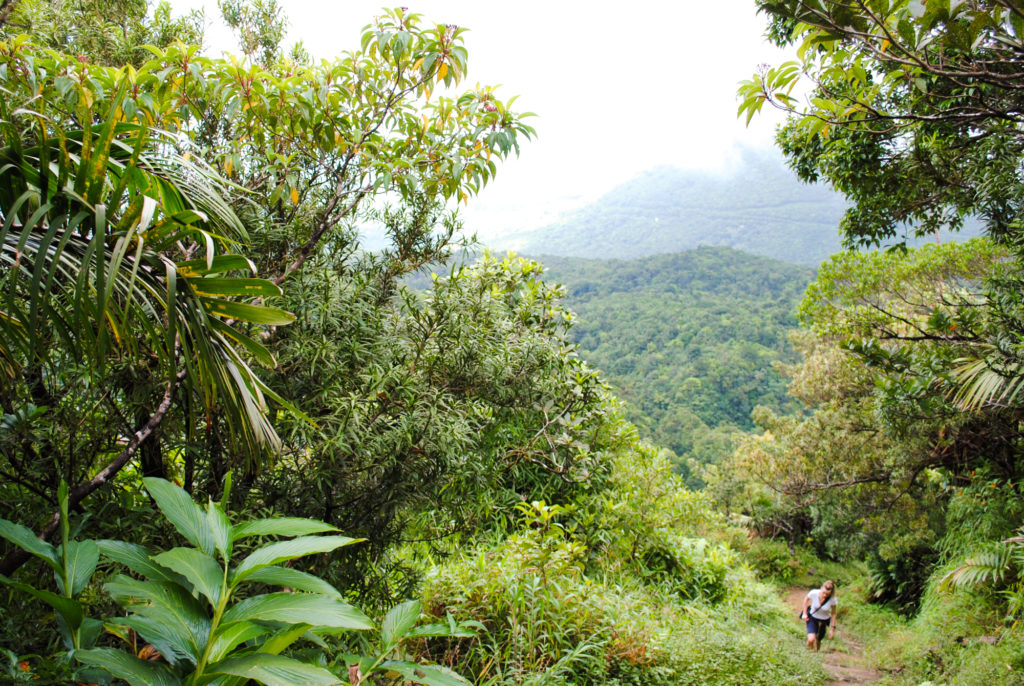 A local guide is for sure recommended, we didn't have one, but almost got lost, especially after the 'Valley of Desolation'. The trail gets vague and confusing, crossing the stream many times. We were lucky to spot a couple with their guide on the opposite corner of The Valley, so we just followed them. That was truly luck, because this hike isn't busy, we had the lake all to ourselves, when we got there.
It's steep, it's muddy and foggy and you're in Dominica, so you'll get hit by a few rain storms for sure, while you're at it. So bring your 'tired' clothes and really good hiking shoes. Water and snacks, of course!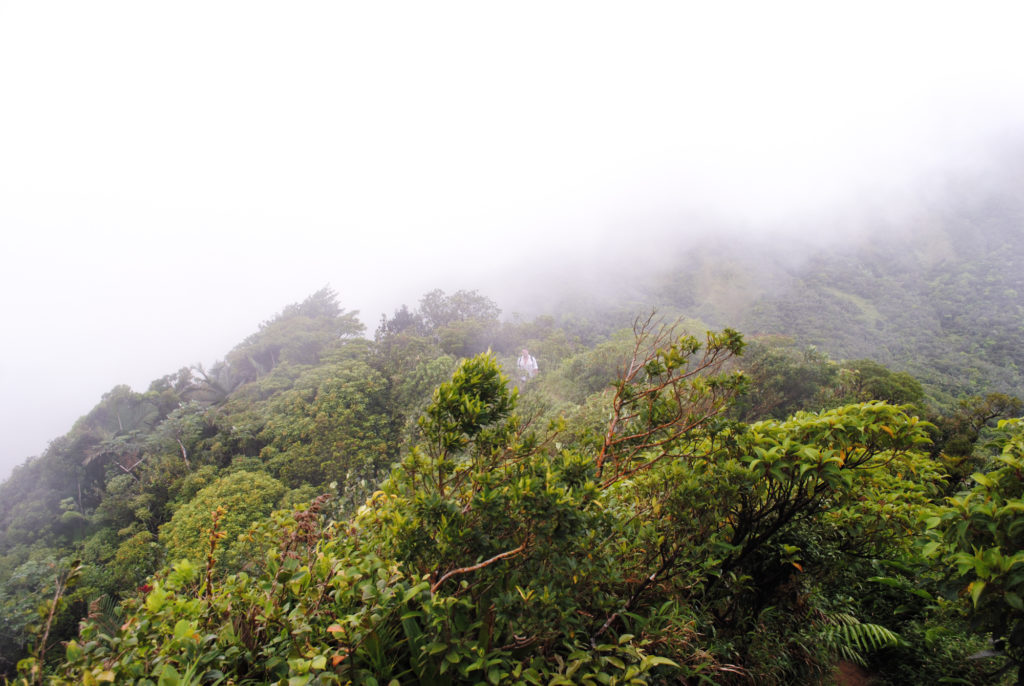 It's 8 miles (13km) long, it took us about 5 hours, but definitely allow 6 hours all together.
First, the hike takes you from Titou Gorge to the 'Breakfast River'. It's steep and it will take about 30min. Then, after an hour or so of hiking, you'll reach the trail's highest peak at 2,950 ft (about 900m). The 360 views from here must be stunning, but it was all fog for us. Now, turn left, the next part of the journey will take you to the above mentioned, 'Valley of Desolation', my favorite. It's steep going down and slippery. You're right on the edges, it's okay to sit on your bum, I did! Now, time to explore, have a facial and a little swim. Although check the temperature first, some streams are boiling, obviously! Then follow the trail completely diagonally to the opposite corner of the valley. This will take you the right way, only the last few steps left to get to the magnificent boiling lake.
Who would have ever believed that the world's largest boiling lake hides on a tiny, magical island of Dominica?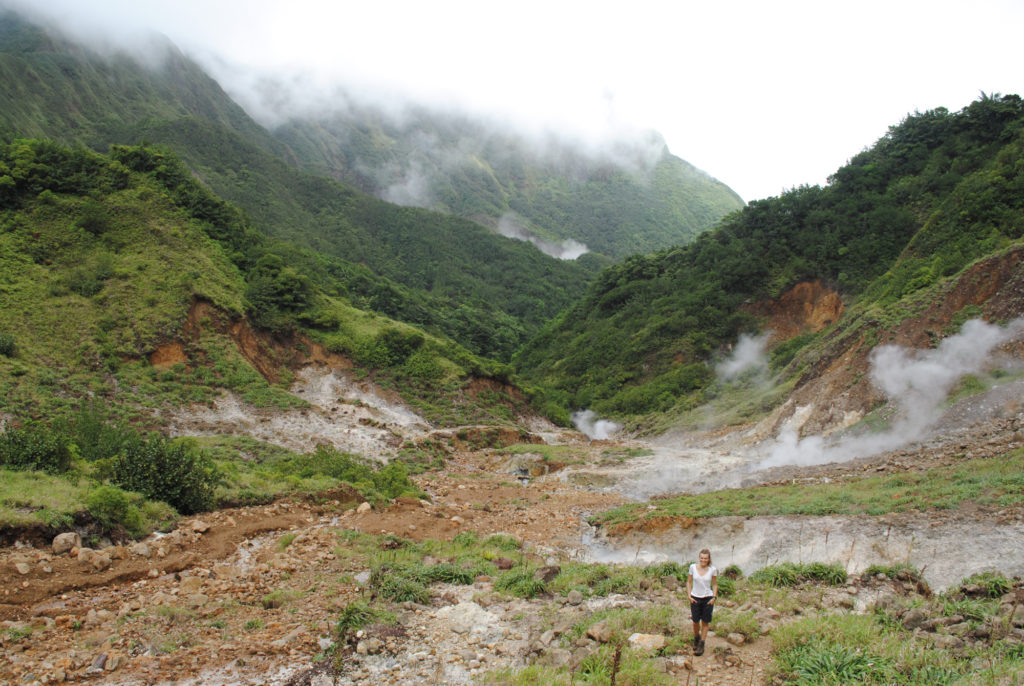 The lake is steaming hot, literally! It's the most spectacular and special view, nothing like I've ever seen before! It's 200ft across, but no-one knows how deep it is, feel free to find out! The edges of the lake are steep, so be extra cautious, you don't want to end up a Caribbean boiled egg. If you climb up the little hill nearby, the views are even better, if that's possible.
Apparently once in a while the lake stops boiling, no one knows why. So, let me wish you the most amazing hike and, that this is not the case. But as I said, every hike is about the journey and this one is worth it more than any other.
Distance: approx. 8 miles (13km) round trip 
Time: allow 6 hours (do not set off after midday)
Condition: wet, muddy, steep, slippery, we found it to be moderate, but on Dominica's official website, it comes under 'very difficult' hike 
Detailed Directions: avirtualDOMINICA.com