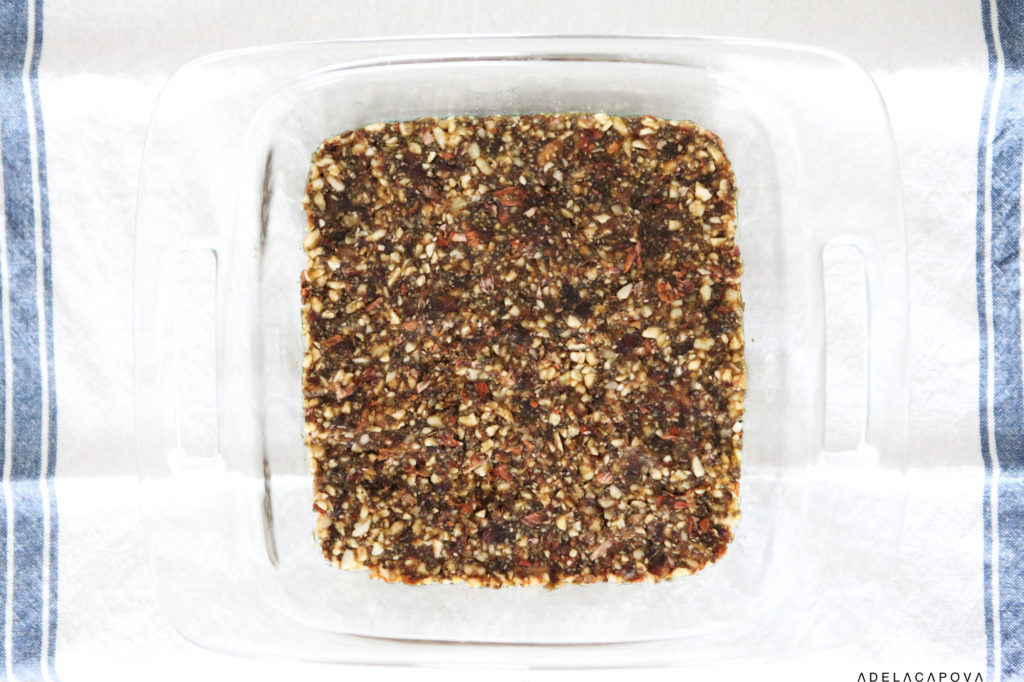 This is my own recipe for homemade bars, they're great to eat post workout to bring your energy levels back to normal. I also like to take them with me while travelling, as there's not enough healthy food available on the planes and at the airports. It should also make for a nice treat for your Thanksgiving travels over the next few days.
They are very simple to make and are delicious. Do not snack on these regularly though as they are high in fructose and essential fats, too many will add the inches. They are great when you feel run down, after exercising or as a treat. Eat as many as you want but don't say I haven't warned you!
Thanks to chia seeds, they are full of healthy Omega-3 fats, essential nutrient for our overall health, there's never enough of Omega-3 in our lives.  Turmeric is definitely among the top super foods. It has super anti-inflammatory properties and is used to treat and prevent diseases such as cancer, rheumatoid and Alzheimer's, it lowers cholesterol levels and improves our liver function, it makes our skin spot-free and has so many other amazing benefits. Cinnamon controls our blood sugar levels and I always add a banana, cause if you've met me, there always needs to be a banana. Almonds are a good source of protein and vitamin E. To put it bluntly, these bars are super-bars!
Ingredients (will make about 12-15 square 2-inch energy bars) :
3/4 cup dates, pitted
1 1/2 cup almonds, preferably skinless
1 tsp turmeric
1/2 tsp green superfood powder (if you have one, find out more here)
1/2 tsp cinnamon
1 banana
2-3 tbsp of chia seeds
Soak the almonds in water, best overnight if you can, at least for a couple of hours, then rinse well. Soak the chia seeds in a bit of water as well, a few minutes will do, they'll be easier to digest.
Preheat the oven on the lowest temperature it has, mine is 170℉ (75℃).
Pulse the dates and almonds together in a food processor or a blender; make sure you don't over do it, you're not making peanut butter. They can still have chunks! Place this mixture into a bowl and add the rest of the ingredients, including the chia seeds you have just removed from water. Mix thoroughly. Use a ceramic dish or anything that can go in the oven (I used Pyrex 8×8 inches, 20x20cm), spread the mixture and press it down properly. Stick the dish in the oven, keep the door open and leave it there for 3-4 hours (in the meantime do my 'Hotel Room Routine' workout) , cut into the bars and serve.
Too complicated? Instead of sticking them in the oven, stick them in the fridge for 20 minutes and serve.
YOU MAY ALSO LIKE: