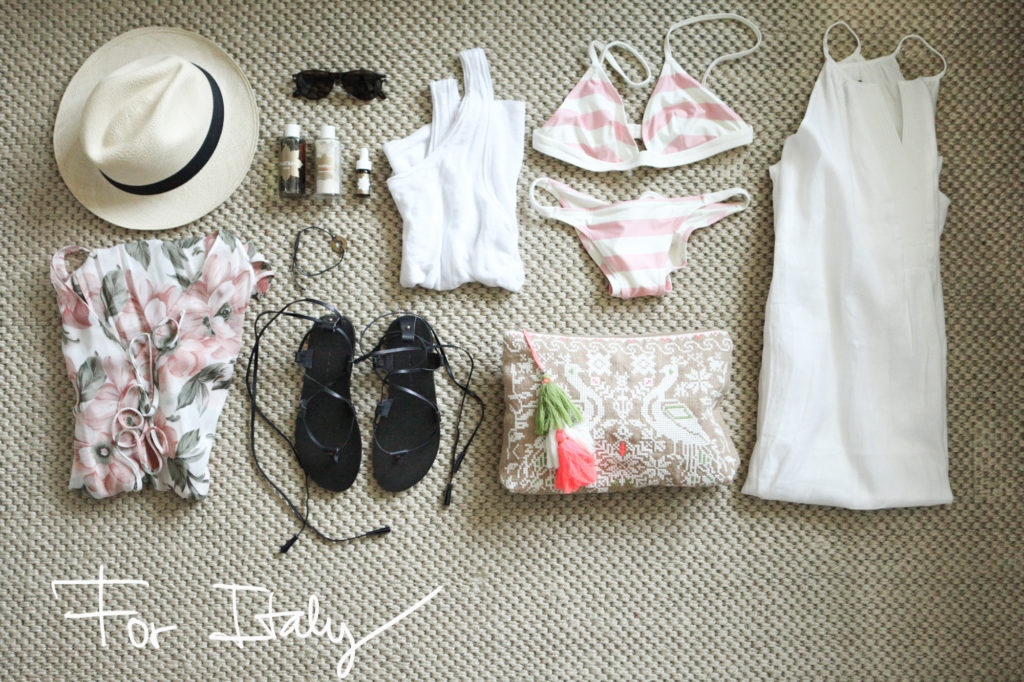 I'm going on vacation in a week and I just can't wait! It's been such a crazy few months, without even weekends off, so I feel I really need it. I'm going to be on a boat much of the time, and I'm a little worried as to how I'll manage my Marathon training? Anyway, what am I packing for La Bella Italia?
Here's what I'm taking: (clockwise from the top):
– Panama hat by J.Crew
– Pratima Skincare oil and skin care (I adore Pratima and her products)
– White linen tank by Paige Denim, I got it from Paige herself!
– Linen maxi dress by J.Crew
– MyIntent "live tough" bracelet
– Reformation dress (more on this amazing eco-brand soon)
And what else?
– 'Italy' guide book by the one and only Lonely Planet
– My J.Crew sandals (the most comfy I've ever owned)
– Zimmermann romper, that I've had for about 5 years now and it's still awesome
– My camera, of course!
– A dress that I created with this amazing fabric from House of Hackney in London (I have a massive palm leaf obsession, that's been going on for years)
– My pilot books (I need to catch up on studying)
– goPro to film some of our ocean adventures
– Maxi skirt that I made for my shoot in Dominica
– My awesome hiking boots
– Coca Cola T-Shirt & teeny tiny Missoni bikini
– Neal's Yard travel essential